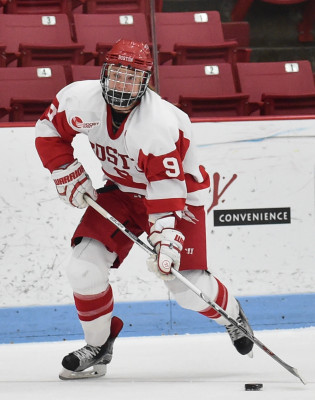 The Boston University women's hockey team will hope to keep its hot streak going in a conference matchup against Providence College on Wednesday.
The Terriers (12-7-1, 9-3-1 Hockey East) have only lost only one game in their past eight. They are second in the conference standings, only bested by an undefeated Boston College.
The Friars (5-10, 3-6 Hockey East), on the other hand, had a less than ideal start to their season, failing to collect a win until their eighth game. However, they have won their past two at home against Brown University and Union College.
Although the Friars have struggled, they bring solid skills to the rink. Providence has one of the higher scoring offenses in the league, averaging 2.33 goals per game. The Friars stand at the middle of the pack with their power play and penalty kill units, as well as goals against with 56 allowed on the season.
However, the Friars do have a tendency to sit in the box. Providence averages 9.9 penalty minutes per game, the most in Hockey East. BU coach Brian Durocher said he hopes his team can take advantage of that in Wednesday's matchup.
"I feel good about our power play lately," Durocher said. "We've been moving around well, getting opportunities. [Providence] plays hard and competes all over the ice. We've got to take advantage if we can. It's a big swing if you can score on the power play."
BU capitalizes on 19.4 percent of its power plays, just above the league average of 19.3 percent. Fourteen of the team's 69 goals have been scored on the man advantage.
But the Terriers need to kick their defense into high gear if they want to extend their success into the playoffs. BU has allowed 64 goals on the season. Only two other Hockey East teams have allowed more.
"All three areas need to improve," Durocher said. "We've got to get another stopper, and be more disciplined forwards, playing all 200 feet. We need to be more disciplined on the defensive side. When we get the puck, we do great things. If we are careless, it's trouble."
Offensively, the two teams are very similar. The Friars standouts are freshman Christina Putigna and sophomore Brooke Boquist. Putigna, recently named Hockey East Rookie of the Month, leads the team with 16 points. Boquist has 15 points and leads the team in goals with nine. Sophomore Madison Sansone is close behind with eight goals. Six other Friars have found net this year.
This almost mirrors the Terriers' offensive prowess. The three smallest forwards of the Terriers' first two lines lead the team in points. Sophomores Rebecca Leslie and Victoria Bach along with senior Rebecca Russo have 26, 24 and 21 points respectively. Bach leads the Terriers with 11 goals, and junior forward Maddie Elia has 10.
The Friars have played four goaltenders this year, but the Terriers are likely going to see Madison Myers between the pipes Wednesday. The freshman boasts a 2.82 goals-against average, and saves 89.4 percent of the shots she faces.
Durocher said he isn't certain who he will put in net, but leans toward sophomore goaltender Erin O'Neil.
"She's played the last few games, and she's on a little bit of a roll," Durocher said. "She's not perfect, but has a rhythm going."
O'Neil is 8-2-1 and saves just over 90 percent of shots. Her 2.93 goals-against average is good for seventh in the league, just behind Myers.
To get the win, Durocher said he believes his team needs to play better defense.
"I have faith we will score goals," Durocher said. "If we play average 'D' and they score, it's an upward climb."