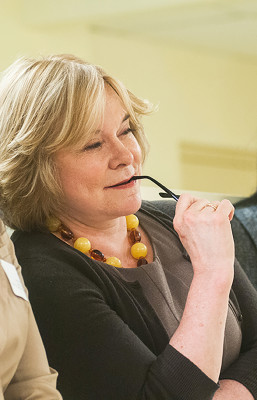 Terriers InBiz is a series that highlights Boston University alumni who have been innovative leaders in their field and have played a significant role in businesses, locally or globally.
Ellen Parker has always looked to make a positive impact in her community. Even in high school, she said, she "was always driven by thinking [she] wanted to change the world."
Now, Parker is leaving her mark by leading Project Bread, an anti-hunger organization that aims to end food insecurity in Massachusetts. Project Bread leads various programs, including the Walk for Hunger, an annual walk rooted in social justice.
As CEO and executive director at Project Bread, Parker forms partnerships with schools, other businesses and the government to "guarantee every person in Massachusetts has access to healthy food."
Parker holds two master's degrees from Boston University, one in business administration and public management from 1985, and one in social work from 1991.
Self-described as an "urban person," Parker said her years at BU were both exciting and perspective-changing.
"I like a city school where there's action," she said. "There's just tremendous opportunity associated with it."
In addition to the location and diverse environment of BU, Parker said her professors and classes impacted her way of thinking for the better.
"When I was in social work school, Hubert Jones was my dean," she said. "He had a tremendous impact on my thinking and for community organizing."
In the beginning of her career, Parker served as an advocate for children and families at Greater Boston Legal Services. She also worked as the senior policy advisor for human services for former Boston Mayor Raymond Flynn from 1988 to 1992, and she was the Metropolitan Boston director for the Catholic Charitable Bureau of the Archdiocese of Boston for another four years.
While her goal of helping others has continued throughout her various jobs, Parker said being an advocate allowed her to see things through a different lens, such as seeing "what it meant to be a mother who struggled with not having very much money."
Parker used her experiences working with low-income families to start programs through Project Bread that have reached the most needy families in the state.
One program is a campaign that brings universal breakfast and lunch to low-income elementary school students in Massachusetts.
The program, almost a decade-old, began when Parker and other leaders in Project Bread realized that in certain school districts, "60 percent of kids were eligible [for free breakfast and lunch], yet only 40 percent would get it."
"The fear of not having enough has a whole range of psychological and neurological effects," she said. "Every child should be offered free breakfast in schools where … kids are struggling to make ends meet."
Parker worked alongside state and school leaders to bring food equality to the lunchroom.
"That was actually a moral campaign. It was really based on doing the right thing," she said. "We organized churches and mosques and synagogues. … It was a great, tremendous energy. It was all of us together."
Another key component to Parker's work is the Walk for Hunger. Started in 1969 by Priest Patrick Hughes, Parker said, the walk brings people together to advocate for social justice issues.
"That thread of social justice, as well as the theme of the individual, has really gone through Project Bread," she said.
The 2016 walk is expected to draw in thousands of people to fight against hunger.
"We see the walk as the heart of Project Bread. It's very democratic," she said. "We get 20,000 people, and I think the message is [that getting] many people working together can do something really, really great and that again you see through a lot of our work."
Parker's passion for helping others and finding creative ways to improve the lives of low-income families inspires her through every branch of her involvement with the community. She said she is dedicated to understanding each person's unique struggles and finding creative solutions to stopping hunger in the state.
"At Project Bread, we always say we don't have one solution to hunger. And that really is very much rooted in my deep, old longtime understanding in people and what people need," she said. "People who are low-income, they're not all the same."