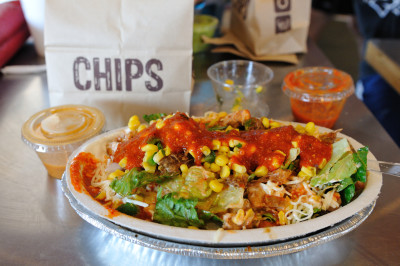 Following an outbreak of norovirus symptoms among Boston College students, a graduate student at Boston University became ill Sunday after eating at a Chipotle restaurant located in Cleveland Circle in Brighton.
Sara Safranek, a graduate student in the School of Education at BU, said she ate chicken tacos and tortilla chips at Chipotle on Friday and felt symptoms Sunday morning.
"I started feeling ill at about 7 Saturday morning," Safranek wrote in an email. "I woke up with violent [gastrointestinal] symptoms and was unable to eat or really leave my bed until this morning."
Safranek said she cannot explain why she got sick, but she said it probably had to do with spoiled meat. She said falling ill during final exams has impacted the end of the semester.
"I missed two of my last classes and am struggling to finish my paper and finals on time. It has really made it difficult for me to finish out the semester," Safranek wrote. "I hope that Chipotle will have stricter and safer guidelines."
James Burgess, a professor in the School of Public Health at BU, said the outbreak sends an important message about the company.
"This has been a really big problem for [Chipotle]," he said. "It sends a signal that is very broad about the cleanliness of their facilities. The biggest threat to them is that once you lose trust from your community, building it back can be very difficult. That immediately causes huge drops in demand and in people's willingness to go to Chipotle."
However, Burgess noted that it remains unclear exactly how the disease was transmitted. The norovirus could have spread from another customer through touching the counter, he said.
"It could've had no direct relationship to the Chipotle staff, or their cleanliness really, within the shift," Burgess said. "There is the possibility that the actual person was a Chipotle employee, in which case they're really in much more trouble."
Burgess also said many viruses and infections are spread unintentionally, and result from poor sanitation habits such as inconsistent hand-washing.
"We need a culture … that allows people to really step in and stop people from doing things that are not the highest sanitary level," he said. "Chipotle may try to change their culture if there is an issue in their culture with problems of cleanliness and hand washing and things like that."
The outbreak could be beneficial, Burgess said, if it forces Chipotle to raise its health standards.
"It might be better for the people who eat at Chipotle in the future," he said. "Chipotle may get a suddenly better cleaning model that really improves cleaning and sanitary conditions throughout their whole company."
Natasha Hochberg, another professor in SPH, said the outbreak proves the importance of the health department's role in keeping the public safe.
"The recent norovirus outbreak at Chipotle underscores the fact that we are all susceptible to infection by a wide range of infectious pathogens," she said. "The outbreak is also a reminder that we need to ensure that resources are not diverted away from health departments, as they fulfill a critical job in keeping us all safe and healthy."
Several Boston residents and BU students said they hope Chipotle will improve their health standards in response to the outbreak.
Arthur Freedman, 58, of Brighton, said people should reference the Internet before going out to eat.
"They give the ratings from the health inspectors around town," he said, "so you can look up all kinds of restaurants … [to know] if it's a good place to go eat or if there have been lots of violations."
Rebecca Moody, a senior in the Questrom School of Business, said she is concerned with Chipotle's sanitation, as she recently ate at the restaurant.
"Now I'm freaking out about it and I'm hoping that I won't get E. coli in the next two days," she said. "Chipotle will want to remain being a popular food establishment, especially for college students, and [update their sanitary guidelines]."
Jessi Levine, a junior in Questrom, said she didn't eat at Chipotle much before the crisis occurred, but said she hopes they fix the issue as soon as possible.
"Chipotle is super popular and a lot of people go there," she said. "I know that at Boston College, a ton of kids got sick, and I think that it's really important that they catch that and stop it from happening so that more people don't get sick."