NEW HAVEN, Connecticut — In a matchup against No. 15 Yale University, the No. 12 Boston University men's hockey team outshot the Bulldogs 10-3 in the final frame. Despite facing a 3-1 deficit, the Terriers attempted to battle back.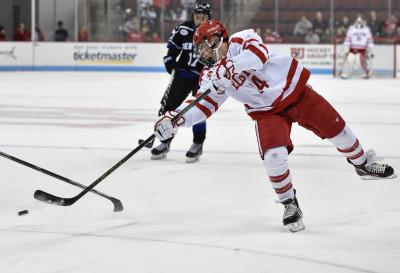 Freshman forward Bobo Carpenter even brought BU within one goal with 2:42 remaining in the game on BU's first power-play opportunity of the game.
But the clock dwindled to zero, the Terriers couldn't extend the game. As BU head coach David Quinn said himself after the game — it was "too little, too late."
Sloppy and overly complicated play ultimately led BU to a "disappointing" non-conference loss against an "opportunistic" Yale, 3-2, on Friday evening at Ingalls Rink.
The Terriers (8-6-3, 4-3-2 Hockey East) fell to 1-4-1 in road games.
BU's usual sharpshooters were held quiet, as only one player had more than three shots on goal: Carpenter, who had four.
After a scoreless first, senior forward Ahti Oksanen opened the scoring for BU at 6:55 of the second period, when his one-timer off a pass from freshman forward Jordan Greenway sailed past Yale goaltender Alex Lyon to give the Terriers a 1-0 lead.
But Yale forward Ryan Hitchcock tied things up for the Bulldogs (6-4-2) with 1:47 left in the second period — right after a faceoff following a BU timeout— when he sent a rebound past BU sophomore goaltender Connor LaCouvee.
"A simple faceoff play, where we just don't cover anybody, and [that's] hockey 101," Quinn said.
Things unraveled further for the Terriers when freshman forward Ryan Cloonan took a five-minute major penalty for boarding and was sent to the locker room early after earning a game misconduct.
The Bulldogs took full advantage of the power play and, with 19.9 seconds remaining in the second period, forward John Hayden sent a puck in from the low slot to give Yale a 2-1 advantage entering the final frame.
BU killed off the remaining 4:23 of the penalty, but Hayden scored his second goal of the game to give Yale a 3-1 lead 6:31 into the third period.
"That first four minutes, I thought we came out, I thought we fed off it, we had some scoring chances and then they get that 3-on-2 goal," Quinn said. "Give them credit, they were opportunistic, they made a really good play."
"Just a kind of standard 3-on-2 I thought," said BU junior defenseman Doyle Somerby. "It looked like they threw it to the middle and Hayden's a good player, he's been a good player his whole life, he's got some skill … I don't know where it went in, I didn't see that, but he made a nice shot and taking a two-goal lead's tough there."
Again, the Terriers attempted a comeback, and when the Terriers got their first man advantage of the game, after a tripping penalty to Hayden at 15:30 of the third period, BU pulled LaCouvee out of the net. Despite the 6-on-4 goal from Carpenter, BU could come no closer.
LaCouvee had 28 saves in the matchup. Lyon provided 27 stops for Yale.
Despite the three goals LaCouvee allowed, Quinn placed none of the blame on his goaltender– "Connor wasn't the problem tonight," he said. However, Quinn said he felt it was the mental mistakes that did the Terriers in.
"You can't beat yourselves," Quinn said, "and we just beat ourselves tonight."