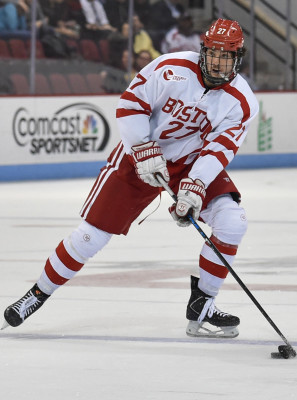 NEW HAVEN, Connecticut — With just under a minute to play in the second period on Friday at Ingalls Rink, the No. 12 Boston University men's hockey team could have let No. 15 Yale University run away with things.
The Terriers (8-6-3, 4-3-2 Hockey East) had just allowed the game-tying goal 53 seconds earlier after winger Ryan Hitchcock picked up a rebound in front of the BU net and placed it over sophomore goaltender Connor LaCouvee to get the Bulldogs (6-4-2) on the board. Then, with 57 seconds remaining in the frame, freshman forward Ryan Cloonan earned a five-minute boarding major and a game misconduct for his hit on senior Carson Cooper by the Terrier bench.
An unimpeded power play awaited Yale, one that wouldn't end if it were to score a goal, and one that would last the remainder of the frame and extend into the opening four minutes of the third period. The Bulldogs could have really made BU pay for its mistake, "a stupid penalty," as head coach David Quinn put it, and it looked like they were going to.
Freshman Joe Snively had the puck along the right-wing boards and backhanded it down low to Hitchcock, who controlled it and sent it up to winger John Hayden at the inside of the right circle 37 seconds into the man advantage. The junior immediately one-timed the puck to allow Yale to pull ahead 2-1.
"Coach reiterated all week that they're not going to beat themselves, and unfortunately their first goal and that power-play goal wasn't great plays on our part," said junior defenseman Doyle Somerby. "You can't let them get a lead like that because it's tough to score goals against them. Unfortunately it came back to bite us."
BU fended off its opponent for the remaining 19.9 seconds in the period and was able to head into intermission down a goal, though it still had 4:04 left on the major to deal with when the teams returned to the ice.
When it did come time to begin the final 20 minutes of the game, the Terriers had had a chance to make sure things didn't get away from them. They denied Yale for the rest of the power play, holding their opponent to just one shot in those four minutes. The key, Somerby said, was approaching the penalty kill with attention to detail.
"There was a couple things we talked about coming into tonight that we had to do on the penalty kill, and unfortunately we didn't get it done for the first 40 seconds, but luckily enough we got the intermission to kind of talk things over and regroup and come back out strong for four minutes," he said.
The Terriers even fed off the kill a bit, Quinn said, pressuring the Bulldogs right after the five minutes were up as junior forward Tommy Kelley, who served Cloonan's major, got a chance a couple seconds after exiting the box. But Yale padded its lead on a 3-on-2 into the BU zone 6:31 into the period as Snively found Hayden again while he was edging behind the defense in the slot and put it home past LaCouvee for his team's third.
Still, BU would end up out-shooting the Bulldogs 10-3 in the third despite the goal and out-attempted them 25-12.
"Give them credit, they were opportunistic," Quinn said. "They made a really good play. And that's a really good hockey team.
"I really loved how we continued to play in the third period," he added.
The Terriers would pull within one tally as freshman center Bobo Carpenter netted a power-play marker with LaCouvee pulled with 2:42 remaining, but "too little, too late," Quinn said.
Somerby added that BU needs to tighten up for a full 60 minutes in order to bounce back on Saturday against No. 2 Quinnipiac University and in the future as well.
"I think that's kind of one of the things we need to focus on all year," he said. "Little spurts that we drop the ball a little bit, we don't rebound quick enough. Tomorrow we've got to take in a not too high, not too low type mentality, and I think it'll be a fun one."