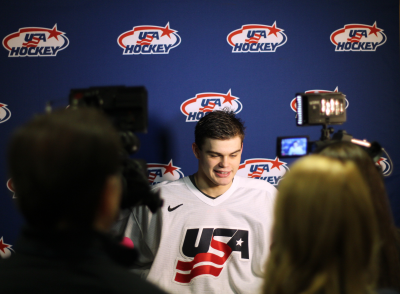 In the second period of an Oct. 17 game against their division rival Guelph Storm, the Erie Otters of the Ontario Hockey League found themselves trailing by a score of 1-0.
With 7:26 gone in the frame, Dylan Strome had the puck on the end boards, holding it briefly before pushing it along to Taylor Raddysh as he coasted through the left circle down low. Their linemate, Alex DeBrincat, came cruising in and received Raddysh's cross-slot pass before firing the puck over Bradley Van Schubert's sprawling attempt at a glove save. 
"Strome, on to Raddysh, on across, DeBrincat scores!" the voice of Aaron Cooney cried on the Otters broadcast.
DeBrincat glided to the corner as his teammates greeted him with arms raised in celebration.
"Earth is round," Cooney said, "water is wet and Alex DeBrincat scores goals."
Netting 33 tallies in 30 games so far this season, DeBrincat is the OHL's top lamp lighter and ranks fourth overall in points with 56. His task as a member of Team USA for the upcoming World Junior Championship, then, is pretty clear-cut.
"Probably scoring goals," DeBrincat said. "I mean, I know that's my role in Erie and hopefully I'll do whatever they need me to do, but as of right now, I think that's probably my role."
His markers aren't always pretty, he said. A bunch of them come off rebounds or back-door chances, but his ability to find areas in front of the net helps him succeed as a scorer. And though he's not physically imposing at 5-foot-7 and 161 pounds, DeBrincat, who's eligible for the 2016 NHL Draft, said he likes to go to the corners and battle for pucks as well.
"He's going to have to be a guy who buries the puck," Team USA head coach Ron Wilson said, "which he's done all year playing junior, and that's why he's leading the league in scoring. And I don't see any reason why that should be different out here."
DeBrincat, a native of Farmington Hills, Michigan, has been taking line rushes in training camp with Auston Matthews and fellow OHL player Matthew Tkachuk of the London Knights. The three have been grouped together both days, sporting white jerseys as a distinction, and said they're meshing well.
"Alex is obviously having a great year this year, and he's an easy player to play with," Matthews said. "He moves the puck really well and finds open areas."
Unlike many of those at camp for the week, though, DeBrincat hasn't known a ton of the other players for very long. There were no familiar faces, he said, but it was fine.
"They're all nice. It's been easy," he said. "I met a lot of guys the first day, so from then on, it's been kind of easy."
And while a good portion of the camp roster has been able to call former Boston University men's ice hockey center Jack Eichel a teammate, DeBrincat spent much of last season as centerman Connor McDavid's winger.
"It was amazing," he said, grinning. "I'm sure they'll say the same [about Eichel], but [McDavid] just does everything at such a high speed, and you're kind of in awe sometimes when you're watching him, so it was pretty cool."
Coming into this year, it was easy for people to attribute DeBrincat's 2014-15 Rookie of the Year success to the talent of McDavid as a hockey player and setup man. However, even without the current Oiler, DeBrincat is still flying.
He said it's nice to have the success he's having this season, building off his 104 points in 68 games last year. He is on track for even more this time around, but said there are parts of his play that need development, too.
"I can't really be satisfied with what I've done this year," DeBrincat said. "I've a lot to do to improve, and I think that goes for everyone. No one's really perfect, so I know I need to tighten up my defensive game a lot. So that's something I'm really working on lately."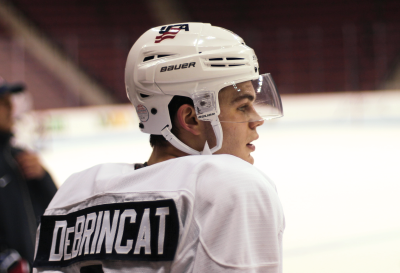 With McDavid in the NHL now, DeBrincat logs time with Strome, the third overall pick of the 2015 NHL Draft and the winner of the 2014-15 OHL scoring title with 129 points in 68 games.
The two are roommates in Erie and, with Strome named to Team Canada's World Juniors roster, it's been "a little bit of a battle" for the pair. Smiling, DeBrincat said he hopes Strome does well in the tournament.
"But come the 26th," DeBrincat said, "I hope he doesn't do too well."
Team USA opens the competition with a game against Canada on Dec. 26 and the 17 year old, who will turn 18 Friday, said he would be excited to play against his teammate if he were to make it that far past roster cuts.
Wilson expressed his enthusiasm in seeing how DeBrincat fares against his teammates and other OHL players as well.
"He's playing against all his peers, but for the American side this time," Wilson said. "And that's what I'm really looking forward to — how well he plays in this tournament against a lot of his peers, because he's dominating this year."
GETTING TO KNOW YOU 
How would you describe your playing style?
Alex DeBrincat: More of a gritty goal scorer. I like to find the front of the net and just get pucks in that way.
Who's your favorite NHL player and why?
AB: Probably [Pavel] Datsyuk, just because growing up watching the Red Wings, he's kind of like McDavid. You're just in awe when he has the puck.
What's your favorite movie?
AB: That's a tough one. I'll have to go with "Miracle." That's always good.
What's your favorite song right now?
AB: Probably "Sorry" by Justin Bieber — something from that album.
What's your favorite TV show?
AB: "Friends," probably.
Who's your favorite character?
AB: Joey. He's funny.
If you had to eat one food for the rest of your life, what would it be?
AB: Sushi.
Judy Cohen: Any particular kind?
AB: I'm a big fan of eel, yeah.