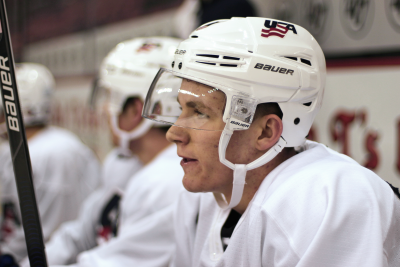 He's not sure if it's even allowed anymore, but from the time he was about five years old until he was around 10, Matthew Tkachuk got to practice with the St. Louis Blues.
He and his brother, Brady, who's committed to play hockey at Boston University beginning in the 2017-18 season, would follow their father, Keith, to his team practice. They'd get there around 11:00 a.m. — 10:00 if they wanted to practice themselves beforehand, and when the Blues took the ice, the Tkachuks were granted time to shoot around with the squad for a little bit before the coach ushered them off.
Keith, one of the most highly regarded power forwards of his time, played in the NHL from 1991 to 2010. After spending time with four teams — St. Louis, Winnipeg, Phoenix and Atlanta — he accumulated 1,065 career points across 1,201 games.
The Tkachuk name is a recognizable one, especially at BU, where Keith played during the 1990-91 season and was named to the All-Hockey East Rookie Team for his 40 points in 36 games.
"My dad really talks about this place," Matthew said in the hallway of Agganis Arena on Thursday. "He grew up in Boston, so it's like his home away from home … he really loves BU and loves the school and what it did for him."
And while Matthew, a projected top-five pick in the 2016 NHL Draft, didn't follow his father's footsteps to BU, there are certain other parts of his career that might look familiar. One, for instance, is the reason he's at Agganis for the week in the first place: to try at make Team USA's World Junior Championship roster.
Keith competed in the 1991 and 1992 tournaments, bringing home bronze in the latter. With an opportunity to accomplish a similar feat, Matthew said "it's pretty cool" to be in this situation.
"He's been giving me the feedback," he added. "You know, 'Go in there with your head up and believe in yourself. You can make this team and be a good part of the team.'"
Another relative of Matthew's is also taking part in training camp. Boston College Eagle Casey Fitzgerald, his cousin, is vying for one of the spots on defense for the upcoming competition. Fitzgerald's brother, Ryan, also plays for BC, and their other cousins, Jimmy and Kevin Hayes, suited up for the Eagles too.
"It's a little bit of a rivalry there," Matthew said, adding that it can get competitive among all of them.
"But in a friendly way," he qualified. "We all want to be better than everybody, but we all push each other as well."
Matthew said his dad, who also played left wing, was not involved in his technical hockey development much besides throwing him out on the ice when he was two years old and "letting him horse around and push a sled or whatever." Instead, Keith taught his son about more character aspects of the game, urging Matthew to "be a good team guy."
"Be well liked and just work as hard as you can every day," Matthew recounted. "If you do that, you're going to be the best player that you can be."
In terms of actual hockey playing, Team USA head coach Ron Wilson praised Matthew for his ability to make plays around the net, noting the 18-year-old "has a knack for doing that."
Piecing together a solid opening to the season with the London Knights of the Ontario Hockey League, Matthew recorded 59 points in 29 games, good for second in the league. He said getting the invite text from Team USA General Manager Jim Johannson was "a little bit of a sigh of relief."
"It's a huge honor," Matthew said. "… I was stressing over it a little bit, but I feel like I did a good job the first half of the year to deserve to be here. And as of right now, I just have to keep working, and hopefully I can make this team."
Should he make the cut, Matthew said he wants to be a tough player to play against, as it was one of his goals coming into his 2015-16 campaign to begin with. He added that he wants to be the hardest guy on the ice for the other team to face.
So far at training camp, he's been on a line with his former National Development Team Program teammate Auston Matthews and Alex DeBrincat of the OHL's Erie Otters.
"I think that line was made for us, and that's why I put those guys together," Wilson said.
Wilson also said Matthews and DeBrincat were be locks for the team on Thursday, and if Matthew makes it with them, he said he's excited to represent his country.
"Playing for something bigger than yourself," Matthew said, "and trying to go out there and win."
GETTING TO KNOW YOU
 How would you describe your playing style?
Matthew Tkachuk: An offensive-minded power forward who can beat you any way possible, I guess. A skill forward or a power forward — just a guy that likes to dominate every shift.
Any phobias?
MT: No, no. I'm pretty mellow about it. I guess maybe one thing would be, like, snakes or something. Like, those type of animals are kind of weird.
So what's your favorite animal?
MT: I don't know. We never had any pets because we were always so busy, but I don't know. Like, a nice, small dog that doesn't shed is, like, that's the ideal pet.
Stanley Cup prediction?
MT: Montreal Canadiens are doing pretty well. Rangers are always in the hunt, but I'll probably say Chicago. They're going to win probably again. They've got the best team.
If you could have one super power, what would it be?
MT: That I could fly.
Favorite song right now?
MT: Song right now? Oof, Justin Bieber, "Love Yourself."