Senior captain Matt Grzelcyk scored a natural hat trick as the No. 11 Boston University men's hockey team beat the University of Massachusetts Amherst, 7-2, on Saturday evening at Agganis Arena.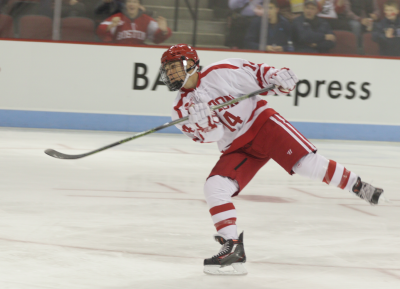 Senior assistant captain Danny O'Regan, sophomore defenseman Brandon Fortunato and freshman defenseman Charlie McAvoy each had two assists in the game for BU (11-6-3, 5-3-2 Hockey East), while freshman center Jakob Forsbacka Karlsson, junior forward Robbie Baillargeon and freshman forward Bobo Carpenter each recorded a goal and an assist apiece.
"You don't get many nights like that in this league where the puck jumps in for us like it did for us tonight," said BU head coach David Quinn. "We got some puck luck, but I also thought we made some plays, and I thought we got better as the night went on."
Forward Shane Walsh gave UMass (7-10-4, 2-5-4 Hockey East) an early 1-0 advantage when he sent a puck into a wide-open net just 2:50 into the first period. Forsbacka Karlsson tied the game at 1-1 with 1:12 left in the first period, when his backhander bounced off of UMass goaltender Alex Wakaluk's skate and trickled into the net.
"It was a little bit of a lucky bounce, I think," Forsbacka Karlsson said. "[Freshman forward Ryan] Cloonan got the puck in the side there and he fired it off and it bounced off the board and I just tried to hit the goalie in the back and fortunately it went in."
Carpenter gave BU a 2-1 lead at 12:09 of the second period with a backhander of his own, but then, exactly one minute later, the Minutemen followed with a tally from forward Steven Iacobellis to tie up the game at two goals apiece.
Just 20 seconds after that, however, BU almost immediately regained the lead with a shot from Grzelcyk to make the score 3-2.
"Other teams are gonna score on you, and it's how you respond that's gonna determine whether you're gonna win or lose," Quinn said. "It's not the fact that you're down 1-0 or they tie it quickly … it's how you respond. And that's what we talk about an awful lot. … I like the fact that we do respond that after they did make it 2-2, we made it 3-2 relatively quickly."
The next two goals would belong to Grzelcyk. He added his second goal of the game with 2:58 remaining in the period, when he slapped a puck off Wakaluk's shoulder and in the net. Grzelcyk then capped off the hat trick with a hard shot from the point that made the score 5-2 in favor of BU just 18 seconds into the third period.
Baillargeon made the score 6-2 at with 6:53 remaining in the game. Freshman forward Jordan Greenway had a shorthanded goal off a breakaway with 1:50 left in the game, making the score 7-2.
Not only did the Terriers score three goals in the final frame, they also held UMass to a low shot total in the period.
"Seven goals is great, but the thing I really liked is we gave up five shots in the third period," Quinn said. "We were up 4-2 going into the third, and it's still a game, anything can happen."
Senior goaltender Sean Maguire stopped 25 shots for BU, while Wakaluk stopped 30 shots in the game for the Minutemen.
With the victory, BU won its third straight game, matching its longest winning streak of the year. The Terriers have scored 17 goals over those three games.
"Obviously we're feeling pretty confident right now," Forsbacka Karlsson said. "We know what we're capable of when we play at our level, and I think it's shown."