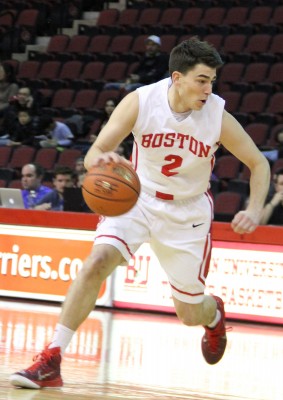 The Boston University men's basketball team returned to action Saturday afternoon, dominating Lafayette College with a score of 68-47 at Case Gym.
The victory for the Terriers (8-9, 1-3 Patriot League) marked their first conference victory of the season and also snapped a three-game losing streak. The plus-21 margin of victory was the team's second best this season, following a 33-point victory against Kean University on Dec. 28.
"It was just a contrast from what we've looked like the past few games," said BU head coach Joe Jones. "We played with absolute toughness. I loved our attitude, and our defensive intensity was the reason we won the game."
BU got off to a hot start from the opening tip, securing an early 9-0 lead, and the team never looked back.
The Terriers had their highest rebounding total of the season against the defending Patriot League champion Leopards (4-11, 1-3 Patriot League). They grabbed 55 boards in this contest — the program's best since BU men's basketball tallied 60 rebounds in a game against the University of Vermont on Jan. 22, 1999.
"We had two guys with 11 rebounds apiece, we had two guards with seven apiece, we did a good job on the boards. I thought we played with great intensity," Jones said. "Hopefully it gives them a little more confidence as we go forward, in terms of what we're capable of doing when we play hard."
Still coping with injuries aplenty, the Terriers jumped out to the early lead. After a sloppy first couple minutes, junior guard Eric Fanning got the scoring going for BU as he notched the first of his season-high 22 points on the night.
A dunk from Fanning at the 10:41 mark forced the Leopards to call a timeout with the score 14-2 BU, and BU defense kept the Terriers in front the rest of the way.
BU held the Leopards to just 28.6 percent shooting from the field, and 13.8 percent during the first half. The Leopards didn't have much success from 3-point land either, as 10 of their 12 attempts were wayward.
Lafayette was able to gain some momentum on the offensive end in the second half, though, shooting 44.4 percent as a team and more than tripling its scoring output from the first half. Senior Zach Rufer, who is averaging just over five points per game this season, scored nine in the second half to help get Lafayette going, but it wasn't enough.
BU's offense never faltered, and a free throw from senior forward Nate Dieudonne with just over six minutes left put the Terriers up by 27 — their largest lead of the game.
In addition to their tenacity on the glass and on defense, Jones said the Terriers found balanced offensive play to be key. Jones' men had four players in double figures on Saturday afternoon, led by Fanning's strong showing.
"[Fanning] got into a good rhythm as the game went on, and that really helped us," Jones said. "He got some transition baskets, he attacked the rim and got himself to the foul line a couple times. The other thing about him, I thought he played with great energy."
The Terriers also got strong play from their starting point guard, freshman Kyle Foreman, who has been named Patriot League Rookie of the Week three times this season. The Clyde Hill, Washington native had 15 points to go along with seven rebounds and four assists.
"The big thing with [Kyle] is he's kind of playing with an injured leg, so there are times where he struggled a little bit with that, but he seems to be getting better as the year's gone on, and his play is important," Jones said. "When he and [sophomore guard] Eric Johnson are playing, it's vital to us. Eric had four assists and Kyle had four assists, so when you get eight assists from your point guard play, that's pretty good."
Dieudonne also gave BU a double-double, chipping in 11 points and grabbing 11 boards. Junior center Blaise Mbargorba rounded out the Terriers' contingent with double figures, scoring 10 points on 5-of-7 shooting.
With this sort of balanced effort in hand, BU will next take on American University in Washington, D.C. Wednesday.