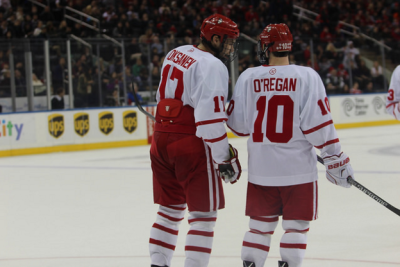 Senior forward Ahti Oksanen, in his fourth and final season with the No. 10 Boston University men's hockey team, has learned quite a lot about the storied rivalry between BU and now-No. 4 Boston College.
"It's unreal," he said after a team practice Thursday. "I'm from Finland so when I came here my freshman year, I had absolutely no clue about the BU-BC rivalry… I learned it pretty quickly that it's a huge thing here in Boston, and especially last year. I was so pumped up for the game, the biggest game."
The Terriers (11-6-3, 5-3-2 Hockey East) will face the Eagles (14-4-2, 7-1-2 Hockey East) for the final time in Oksanen's regular-season career with a home-and-home series beginning at Conte Forum Friday and wrapping up at Agganis Arena Saturday.
BU and BC have met 267 times in their histories dating back to the 1917-18 season, with BU holding a 130-120-17 record for those games. Last season, BU won the first game of the series on Nov. 7, 2014 by a 5-3 score at Conte Forum, but dropped the second game on Jan. 16, 2015 in a tense 4-2 loss.
Beyond rivalry implications, the Terriers will look to extend a three-game winning streak and earn crucial conference points. They also look to gain ground in the PairWise rankings, which will determine postseason tournament placement. BU ranks ninth in those standings, while BC ranks 10th.
"What's ultimately at stake is two more points in the league," BU head coach David Quinn said. "We've got to build on the success we've had. Obviously from the national standpoint with the Pair[Wise] ratings, this is a huge game … so there's a lot of implications.
"But at the end of the day, it's two points at stake," Quinn said. "We don't get four for beating BC, and they don't get four for beating us."
BU enters the Hockey East matchup fresh off a 7-2 victory over the University of Massachusetts Amherst. Senior captain Matt Grzelcyk had a hat trick in the game, while six more players had multiple points in the win.
Multiple Terriers are on multi-game point streaks, including freshman forward Jordan Greenway (eight points in the past seven games), freshman defenseman Charlie McAvoy (five points in the past four games) and junior forward Robbie Baillargeon (five points in the past three games).
Senior goaltender Sean Maguire will get the nod in net for Friday's game for his fourth consecutive appearance. In the past three games, Maguire has recorded a .921 save percentage and 2.67 goals-against average.
Oksanen said Grzelcyk told the team after practice Thursday that a lot of the success in these games relies on keeping even-keel. The team that best controls its emotions will win the game, the captain said.
"Last year, we controlled our emotions in the first game and we won," Oksanen said. "Then obviously the next game we didn't do as good job and we lost, so it's all about controlling our emotions."
With BC averaging a country-high 18.15 penalty minutes per game — the next highest is Mercyhurst University with 15.85 per game — and BU toting a 10th-best 23.29 power-play percentage, controlling their emotions seems like the best approach for the Terriers. However, the Eagles are equipped to deal with the number of penalties they take.
Not only does BC have six shorthanded goals on the year, but it also owns the ninth-best penalty kill of any team at an 87.2 percent success rate. The Eagles have, however, allowed at least one power-play marker in five of their last six games.
When it is awarded a chance on the power play, BC will capitalize about 20.22 percent of the time — 16th in the country — and has recorded back-to-back games in which the team has tallied multiple power-play goals. In their five games prior to those two, though, the Eagles had a stretch where they couldn't find the back of the net in 11 chances on the man advantage.
Regardless of power-play success, though, BU's rival has the fourth-best offense overall, averaging 4.15 goals per game and posting a sixth-best team defense of 1.90 goals against per game.
To stop that potent forward power, Quinn said BU needs to focus on defense.
"But I could say that for every team we play," he said. "If we're going to have success, we have to be committed to playing defense. If we're not, we're going to struggle. We're not going to have the success we're capable of having, and we've talked about that."
Backstopping that strong defense is one of the best goaltenders in college hockey — Thatcher Demko, who possesses a .936 save percentage, good for eighth in the country, has recorded six shutouts, one fewer than No. 2 Quinnipiac University's Michael Garteig's first-ranked seven.
There are few areas of weakness for the Terriers to exploit this weekend, but given BU's recent success, Quinn said he feels that the team has every reason to feel positive.
"I hope they're confident," Quinn said. "We should be a confident group. We think we've got a bunch of good players and we've had some success lately … and we've been as healthy as we've ever been.
"I think this is our best lineup we've had all year, so there's a lot of things to feel positive about."