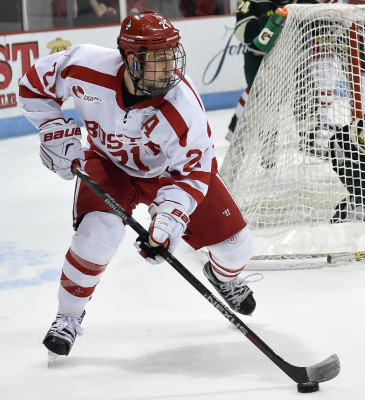 CHESTNUT HILL — During the No. 10 Boston University men's hockey team's loss to No. 4 Boston College on Friday night, a little more than an entire period was spent with special teams on the ice.
Not consecutively, of course, but the Terriers' (11-7-3, 5-4-2 Hockey East) 11:43 shorthanded and the Eagles' (15-4-2, 8-1-2 Hockey East) 9:31 on the kill summed to 21:14 minutes of a special teams spotlight. BU gave BC seven opportunities with the man advantage, and the scarlet and white's rival reciprocated with six chances for the Terriers on the power play.
Of the eight goals scored in the 5-3 decision, just one came at 5-on-5: a rebound buried by Eagle centerman Zach Sanford. The other seven? BU power play, BC shorthanded penalty shot, BU power play, BC power play, BU power play, BC power play, BC empty netter.
"You can't take seven penalties against this team," said BU head coach David Quinn. "You can't."
The Terriers have, on four occasions now this season, given their opponent at least seven power-play chances. The first was in their 5-2 loss to the University of Connecticut on Oct. 27, the second in Nov. 6's 5-4 win over Northeastern University, the third in their 3-3 tie with then-No. 1 Providence College and the fourth at Conte Forum on Friday.
"Bottom line, we've got to cut the penalties out of our game if we want to beat a team like that," said senior assistant captain Matt Lane.
The reason for the plethora of penalties, Lane said, was a combination of stick infractions and undisciplined plays. Quinn added that the team wasn't skating enough, something Lane echoed, and that when that happens, "you're going to take penalties."
That, in turn, affects the rest of the game as well because when you end up killing penalties for upwards of 11-and-a-half minutes, you start to lose your legs, Lane said. Where BU was almost expert at keeping BC out of the slot in the attacking zone in the first period, it had trouble in the following 40 minutes edging the Eagles out and wound up giving up odd-man rushes to boot.
"We weren't as tight defensively as we were in the first. Even though we didn't do that much skating in the first we were a little more tighter defensively, we had better sticks," Lane said. "I thought we got a little sloppy in the second, like I said, whether it was taking penalties or just kind of failed defensive zone coverage."
And while BC's power play gave it the game-winner in the third period, BU's proved effective as well. The Terriers converted on half of their six opportunities up a man as each of their three goals came 5-on-4. It marks the third consecutive game in which the Eagles, who were 2-of-7 on the night, have given up multiple power-play goals.
"Our power play was clicking tonight," Lane said. "Unfortunately, so was theirs."
From their 5-3 win over the University of Vermont on Dec. 5 onward, the Terriers are nine of their last 20 on the power play. The key has been keeping it simple, according to Lane, "just moving the puck, not stick handling, moving it quick."
"Our power play's been pretty good over the course of the last month-and-a-half, so obviously when you get three, that's a great sign," Quinn said. "You certainly should win a hockey game when you get three, but we gave up a shorthanded goal … so as good as it was, wasn't good enough."