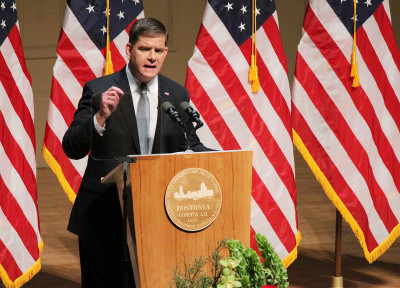 Boston Mayor Martin Walsh delivered his second State of the City Address Tuesday to a full audience at Boston Symphony Hall. This address marked the halfway point in his first term as mayor.
Walsh spoke after brief musical and vocal performances from Boston Symphony Orchestra's Hawthorne Quartet, the English High School marching band, the Boston Arts Academy Spiritual Ensemble, readings from Boston's poet laureate and high school students and an invocation of prayer, delivered by Shaykh Yasir Fahmy, Rev. Joe White, Rev. Liz Walker and Rabbi Elaine Zecher.
Walsh began his address with a declaration of Boston's wellbeing, bringing the audience to its feet before he even began to discuss the city's progress in 2015 and the future changes to be made this year.
"I'm here to report that the City of Boston is as great as it's ever been," Walsh said.
Throughout the address, Walsh expressed how he helped achieve improved public safety, create affordable housing an equal opportunity for all, raise climate awareness and expand community outreach.
"Violent crime and property crime went down for the seventh straight year, and homicides fell to a 16-year low," Walsh said.
Walsh said America remains the leader in global climate change talks and that Boston is at the forefront of reform.
"We are the No. 1 American city for energy efficiency," Walsh said. "At the historic Paris climate talks, we beat out cities around the world to win the award for community engagement."
In order to make City Hall more responsive to the Boston community, "we launched a 3-1-1 system, we unveiled the pilot of our new website and we gained international attention for CityScore, a first-of-its-kind, data-driven storage system for city government," he said.
Walsh also spent a large portion of the address discussing the strong education system rooted in the Boston Public Schools.
"Instead of unity, too often we see schools pitted against one another by adults," Walsh said. "Tonight, I'm calling on everyone to come together to back all our children, all our teachers, and all our students. Let's live up to our reputation as the world's leader in learning."
Boston Pops conductor Keith Lockhart described the address's historic venue as the focal point for civic events.
Lockhart said that Boston is the "Athens of America," as it serves as a hub for education, technology, innovation, medicine and the arts.
Several attendees expressed support for Walsh and his statements.
Gretchen Bennett, 48, of Beacon Hill, serves as the Chief Council for the Massachusetts House of Representatives Joint Committee on the Judiciary. She described the student performers as "incredibly enthusiastic" and said they were a great addition to Walsh's charismatic address.
"I was sitting with a colleague from the legislature, and we agreed that this kind of inspiration is particularly effective for the city as a whole, but also [that] the things that Boston is doing are inspiring to the state as a whole," Bennett.
Rev. Laura Jarrett, 57, of Jamaica Plain and pastor at Hope Central Church said Walsh is a positive figure for the city.
"I think he has such a vision that he asks us all to be together across race and class, that we all would work for all of our people," she said. "I would like to help in making that really true move from the vision to the doing of it. I think the hope is in the struggle, and if we can struggle together, it'd be so much better."