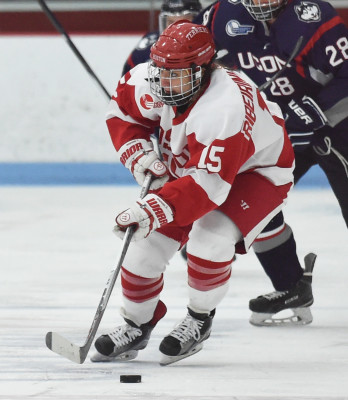 The Boston University women's hockey team suffered a setback Wednesday at the hands of No. 4 Quinnipiac University, falling to the Bobcats by a score of 6-1 in Hamden, Connecticut.
For the Terriers (14-9-2, 11-4-2 Hockey East), this was the third road game in a span of five days. After collecting three of four points in a weekend set against Hockey East foe The University of Vermont, BU simply did not do enough to stifle the Bobcats' (20-1-4) explosive offensive attack.
The Terriers came out of the gate playing well, and they kept the Bobcats at bay through the first 10 minutes of action, but a goal by forward Meghan Turner at the 13:01 mark in the first period opened the floodgates.
It was all Quinnipiac after that, save for a lone Terrier power-play goal in the second period, but BU head coach Brian Durocher noted that there were some important takeaways from this loss.
"My lesson, and it has pretty much been the recurring theme that I'm trying to preach, is we really have to become more diligent, more thorough and more competitive in the defensive part of our game," Durocher said. "That team, despite scoring six goals today, the first and second things they were thinking about were keeping us at bay and keeping us away from the net. They did what they needed to do defensively, and we were erratic at best."
The Bobcat offense has been on a tear this year, averaging 3.3 goals per contest, and their success on the offensive end was therefore not surprising. It was their strong play defensively, though, that limited the Terriers' opportunities and left BU with little chance of a comeback.
The Bobcats more than doubled BU's shot output on the afternoon, securing a 34-15 advantage. Despite sophomore goaltender Erin O'Neil stopping 28 shots, the Terriers could not generate enough offense to climb back into the game.
"They got four to five goals on their first … 15 shots, so I'm sure Erin would like to get a couple of those back because we needed them at that point in the game," Durocher said. "We were playing pretty well for 10 minutes and then all of a sudden they get a couple goals, get some momentum."
Durocher shied away from blaming O'Neil, but did point out the sophomore's high standard.
"I don't think she was directly responsible for them by any means, but as a goalie and as a competitor, you obviously want to stop everything," Durocher said. "I'm not sure if she had the chance to make the big save today that maybe could have hung us in there longer."
After both teams struggled to get going in the first period, the Bobcats killed a Terrier power play and responded by scoring twice in a span of 46 seconds to take a 2-0 lead.
Defenseman Kristen Tamberg netted her second goal of the year off a power play to help Quinnipiac take a commanding 3-0 lead into the second stanza. The Bobcats then extended their lead to four just minutes into the second period off a strike by sophomore Taylar Cianfarano.
"It was not one of our better games of the year is a nice way to put it," Durocher said. "They got some momentum and then in the second period we had a couple of physical errors. A couple times a puck took a funny bounce off the glove of a defensemen and then we had a person lose their balance. Those are physical errors I can live with, but Quinnipiac had a couple of good players that capitalized and all of a sudden it's 4-0."
Senior forward Jordan Juron cut the lead to three with a power-play goal of her own at the 4:32 mark in the second period for her fourth goal of the year. Sophomore forward Rebecca Leslie extended her point streak to five with her team-leading 25th assist on the play.
It was all Quinnipiac the rest of the way, though. Cianfarano added another goal seven minutes into the second period, and forward Melissa Samoskevich, who is second on the team in points, rounded out the scoring for the Bobcats.
The Terriers will look to get back on track this weekend when they take on conference rival Providence College. The encounter will serve as BU's only 2016 game at Agganis Arena, but Durocher noted that although this is a plus, his team's focus will be on the Friars (8-15-1, 4-9-1 Hockey East).
"It's always exciting to go over to Agganis Arena," Durocher said. "The atmosphere is certainly different with the lights and the Jumbotron. It creates its own fun atmosphere to play in. We want to make sure we put up a good showing and go into the building not worrying if we're going to score goals or how many goals we're going to score, but [about how we] can … make life miserable for Providence and keep them at zero for most of the game."