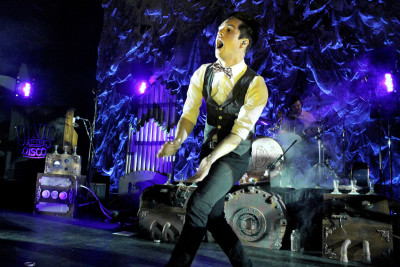 Panic! At The Disco frontman Brendon Urie chimed in 2016 last Friday with the band's fifth studio album, "Death of a Bachelor," featuring 11 tracks including singles "Hallelujah," "Victorious" and "Emperor's New Clothes." The fact that Urie managed to both craft and release his own set list is admirable, as Urie is currently the only member of his band, although he is accompanied by touring musicians Dallon Weekes, Kenneth Harris and Dan Pawlovich.
One must read between the lines to decipher the meaning behind Urie's lyrics. The case is so for many other Panic! At The Disco songs, including well-known hits such as "I Write Sins Not Tragedies" and "Hallelujah," the first single off the new album.
The video for "Hallelujah," which premiered July 7, involved a red-suited Urie expertly contemplating in dark room while simultaneously dancing to the tune of his own rhythm. Despite the obvious picture of a woman on screen, as well as in most of his songs in general, whatever Urie is pondering is a mystery.
The video for "This is Gospel," a track appearing on 2013's "Too Weird To Live, Too Rare To Die," left Urie confined to a hospital bed. Some effort to piece the aftermath of this puzzle together is evident in the video for "Emperor's New Clothes," another single off "Death of a Bachelor," which may contain Urie's most stunning transformation yet.
In all scenarios, Urie presents himself as inviting and different. If considering simply the music instead of the videos the group spawns, Panic! At The Disco's tune remains stagnant.
The melody is not bland, and the drums, bass and guitar combo never fails to make a song "catchy." However, no daring actions have been made on the band's part to really expand its sound.
Any song on "Death of a Bachelor" is likely to be one that is recognizable with a classic Panic! At The Disco song.
The theme behind "Death of a Bachelor" remains consistent throughout. In the titular song "Death of a Bachelor," Urie — as any bachelor might — looks back on his life and questions it mournfully, as if aware that some sort of closing time is both near and inevitable: "The death of a bachelor / Oh / Letting the water fall / The death of a bachelor / Oh / Seems so fitting for / Happily ever after / Ooh / How could I ask for more? / A lifetime of laughter / At the expense of the death of a bachelor."
The death of said bachelor is exposed further in all songs in the album, as each song in itself either presents a near-death experience or one that has already entered the afterlife.
In "Victorious," the momentum — driven by vengeance towards an ex-lover as portrayed in a music video — is strong. Urie seeks to demonstrate himself only as a champion among performances of various tasks, most notably reigning as a wrestler. He is frivolous, but satisfied at the expense of living so close to dying.
As in his sound, Urie remains faithful to this theme well beyond his single hits for this album. "Don't Threaten Me with a Good Time" hints at a life of aimless travel — "I roam the city in a shopping cart / Pack of Camels and a smoke alarm" — while "Crazy=Genius" seeks to mention thoughts of the culmination of the walk as it may pertain to the very life of a bachelor.
Though Panic! At The Disco delivers with the same sound it had in the early to mid-2000s, the story behind each song still stands somehow as fresh and new. Urie excels in this particular department. Writing lyrics is what keeps Panic! At The Disco original in the first place.