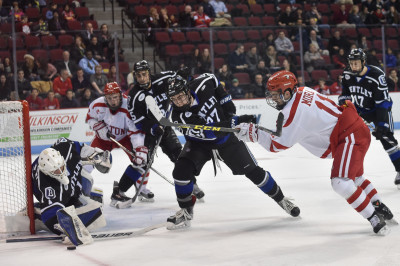 ORONO, Maine — BU head coach David Quinn said earlier in the week that his team had been practicing and skating better than it did in the preceding weekend's games.
There was a confidence that the No. 11 Boston University men's hockey team would have a better series against the University Maine than it did against No. 4 Boston College. It would be just a matter of executing the game plan better.
At least for one night, the improved practice sessions seemed to pay off, as the Terriers pulled away with a 5-2 win over the Black Bears (5-14-6, 2-7-2 Hockey East). Senior forward Ahti Oksanen led the way with two goals and four points, while his linemate, freshman Jordan Greenway, also chipped in three assists.
Despite only taking one point in two games last weekend, the Terriers(12-7-4, 6-4-3 Hockey East) have won four of their last six games and can go for the series sweep on Saturday night at Agganis Arena.
While Quinn did say after the game that it wasn't his team's best performance, a win was satisfying enough, especially at Alfond Arena, where the Black Bears this year have a record above .500.
"It was a good performance," Quinn said, "we've played better but it's a tough environment to play in, it really is, and a lot of our guys were talking about that coming up here and I just liked the way we played, I did, it was one of our better games."
Early on, however, the Terriers  were marred by sloppy play, leading to strong chances for Maine. But senior netminder Sean Maguire held his ground.
For the first period, Maguire stopped all 15 shots, including a few that came from high-percentage scoring areas. Diving across the crease numerous times, Maguire almost singlehandedly kept the game scoreless with his pads and glove. That effort wasn't lost on his coach.
"Your goalie's always important," Quinn said. "Early, middle, late, it doesn't matter. Your goalie's gotta be on top of his game if you're going to have a chance and ours certainly was tonight."
It took a few stops and starts, but the the Terriers eventually gained some footing toward the end of the period when they struck first.
Senior assistant captain Danny O'Regan cycled the puck through the offensive zone, fed senior captain Matt Grzelcyk, where he picked the bottom corner of the net for his eighth goal of the year at 5:41. Playing in just his 11th game of the season, Grzelcyk notched what was his 13th point of the season.
And not long into the second, BU extended its lead. Greenway attempted an unsuccessful wraparound, but Oksanen was on the doorstep to tuck a rebound inside the post where Maine goalie Matt Morris could not reach.
Maine cut halfway into BU's lead twice — once in the second on forward Cam Brown's nifty power-play goal and another time in the third period with forward Blaine Byron's sixth goal of the season. But as Black Bears coach Red Gendron noted, BU continued to grind, and after each Maine goal was scored, it was followed by a subsequent BU tally.
At 12:16 of the second, Oksanen and Greenway won puck battles deep in the offensive zone, allowing senior center Mike Moran to spring loose in the slot. After a few moves with his stick and skates, he backhanded the puck by Morris down low for his first goal of the year.
BU's fourth line, including Moran, junior forward Tommy Kelley and sophomore forward Chase Phelps were pesky all game, keeping the puck deep in the Maine zone, while also totaling eight combined shots.
"It was just going off what we talked about in practice, just skating all over the ice, pressuring the puck hard. Just trying to get it in the zone," Kelley said. "I guess put pressure on them, and make them make a play, and just get pucks to the net."
Freshman center Jakob Forsbacka Karlsson followed suit 51 seconds into the third period when he slipped the puck under Morris' pads. Oksanen added his second goal of the night with 2:35 left in the game, the eighth point his line would accumulate for the evening.
"If you watch us, we haven't been a grinding-type team," Quinn said. "As people that have watched us know it comes and goes. That team [Maine], I know what their record is and they're well coached and it is no fun playing them. And I loved the way our guys stuck to it from the start of the game to the end."
Quinn and company might need that grinding mentality to stay, at least for the next 24 hours. The two teams are scheduled to finish the two-game series Saturday night, the first time the BU and Maine men's hockey programs will play a home-and-home in consecutive days.
"You always expect great effort out of them and a physical element to their game," Quinn said of his expectations of Maine in the back end of the series. "But again, we're trying to do what we have to do to no matter who our opponent is. I mean, if you're going to have success, you've got to play a certain way no matter who your opponent is and that's what we're trying to do and I liked what we did tonight."