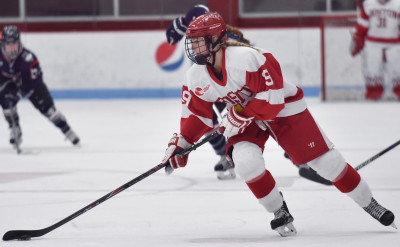 With two-thirds of its season in the books and postseason play slowing inching closer, the Boston University women's hockey team is readying for a home-and-home weekend set against Providence College this Saturday and Sunday.
The series follows a 6-1 loss on Wednesday to No. 4 Quinnipiac University, and BU (14-9-2, 11-4-2 Hockey East) head coach Brian Durocher said he wants his team to return to its fundamentals.
"We always talk about a body of work, and certainly coming off a disappointing game — one where we were significantly outplayed," Durocher said. "We want to get back to being the better team on the ice. It doesn't matter who shows up next on the schedule … We want to make sure that we're thorough out there."
The Terriers have grown familiar with their I-95 rivals, posting a 7-1 record against the Friars (8-15-1, 4-9-1 Hockey East) over the past three years. The two teams clashed already this season, and BU dominated Providence 6-0 on Dec. 9 thanks to a combined four goals from sophomore center Victoria Bach and senior winger Sarah Lefort.
Since their last meeting, the Friars have gone 3-4-1, notching consecutive wins over the Rochester Institute of Technology during the stretch. Forward Cassidy Carels has been on a tear of late, extending her point streak to four games with a goal and an assist in Sunday's 5-2 loss to the University of Connecticut. For the season, Carels has 20 points in 24 games and leads her squad with 12 points in Hockey East play.
Flanking Carels on the Providence attack are underclassmen Christina Putigna and Brooke Boquist, both of whom have eclipsed the 10-point mark in Hockey East play. Last season, Boquist tallied one of her five goals against the Terriers in a losing effort — a 7-1 affair — on Feb. 16, 2015. Meanwhile, Putigna has carried the load as a rookie with four power-play goals to pace the Friars.
According to Durocher, keeping his lines focused on winning every shift will prove crucial to limiting the Friars' chances.
"Our top three lines can certainly play with most teams' lines," he said. "We'll certainly work hard to have Victoria Bach, [senior forward] Kayla Tutino and Sarah Lefort out there a good part of the time."
Durocher commented on the importance of not being over-aggressive against the Friars.
"We'll make sure that whoever's out there is just aware that it's not a bad time to play a little more conservatively," he said. "I like the matchups with the other two lines, but if you can just get into a tie with somebody's top line or just concentrate on beating them by one goal, that's important."
Between the pipes, inconsistency plagues the Friars. Freshman Madison Myers started the game more than 75 percent of the time. However, she's posted a lackluster .877 save percentage. Her backups haven't provided a lift either, as junior Alanna Serviss and senior Sarah Bryant are 1-4 in limited action this season.
Durocher said he's confident his squad can capitalize on Providence's miscues between the net.
"Don't try to get too cute with your shot selection or don't try to make every goal a beautiful five-pass," he said. "You're coming down from behind the net — throw it down at the kid's feet. You're 40 feet out with a defenseman between you — put a good low screen shot on there."
Continuing on the topic of the PC's goaltending, Durocher added that confusion and screens could be crucial.
"Maybe the goalie that's fighting herself a little may have trouble with that," he said. "What doesn't go in on the initial shot all of a sudden becomes a favorable rebound and offensive opportunity for puck possession in the zone and also could result in a goal."
The Terriers will look to bounce back after taking a punch to the gut from the Bobcats (20-1-4). BU struggled to contain Quinnipiac in the defensive zone, stranding sophomore goaltender Erin O'Neil. She faced 34 shots and was forced into 14 third-period snags. Durocher said he knows his squad needs to ramp up its defensive intensity against the Friars.
"It was probably one of those days where we lost an edge, we lost our balance, we got a little bit tongue-tied and just didn't execute very well," Durocher said. "I anticipate the execution will be better, which will help us an awful lot. Again, as a group we've got to make sure that we're consistent, persistent and assertive defensively."
A sweep of the Friars would help the Terriers make the race to the Hockey East Tournament a three-horse affair alongside No. 6 Northeastern University and No. 1 Boston College, who hold the top two seeds with seven conference tilts left on the docket.
The Terriers will also take the big stage Saturday when they meet the Friars at Agganis Arena. While it's not Walter Brown Arena, Durocher conceded, it offers his players the chance to revel in the bright lights.
"We lose a little bit of the atmosphere when we go over there than we have at [Walter Brown Arena], but we also pick up the Jumbotron and the video board and some of the electricity that definitely the newness provides for you," Durocher said. "Hopefully we'll still have an edge and it's an exciting situation to play there."
However, Durocher made sure to point out that beating the Friars is the main focus for his players.
"You come up with points or a win potentially on Saturday, you still have to be able to rebound Sunday and those points are just as important as the first one," he said. "So we'll focus on the first shift, the first period and the first game and worry about what goes on when we head to Providence a little bit later."