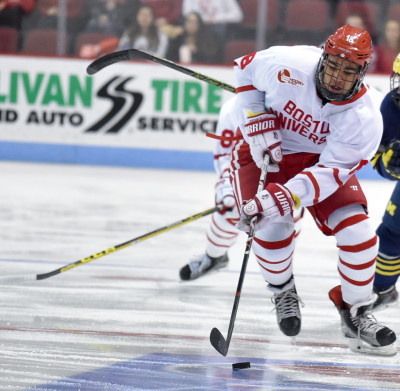 ORONO, Maine — Aside from the goal differential itself, the biggest disparity in the No. 11 Boston University men's hockey team's victory over the University of Maine on Friday night was BU's ability to grind its opponent "better than any other team" had so far this season. At least that's how Maine head coach Red Gendron put it afterward.
"When I look at the game in total without watching it on film, I think it's going to be relatively even," he said.
"Where they hurt us, " Gendron added, "… They hurt us on the grind."
BU head coach David Quinn pointed out that the Terriers (12-7-4, 6-4-3 Hockey East) haven't really been a "grinding-type team" this season, but they "stuck to it from the start of the game to the end" and earned the two points.
One BU line in particular was especially difficult for the Black Bears (5-14-6, 2-7-2 Hockey East) to handle on the grind, Gendron specified. The trio of freshman winger Jordan Greenway, senior assistant captain Matt Lane and senior winger Ahti Oksanen recorded a combined two goals and six assists in the Terriers' 5-2 win at Alfond Arena.
Oksanen was responsible for both goals and a pair of assists while Greenway picked up three helpers and Lane got one as well.
"We just got pucks behind their D, we kept it simple," Greenway said. "We were fast tonight, we were really moving our feet. We just got pucks to the net when we could."
The Black Bears "didn't have any answer" for that combination, Gendron said.
"That line skated, that line was hard to defend," said BU head coach David Quinn. "Those two guys are big, strong, NHL bodies, and the way Lane played tonight, I thought he had a lot of jump in his step tonight. They pursued the puck, there's a lot of good things tonight from that line and obviously they got rewarded on the scoresheet."
It's not the first time they've been rewarded on the scoresheet either, as the group has pieced together an impressive stint thus far.
In the eight games since that line was conceived on Dec. 5 prior to the Terriers' second game in their weekend series with the University of Vermont, Lane, Greenway and Oksanen have recorded 31 points on 13 goals and 18 assists. Lane has six goals and four assists in that time, Greenway has one tally and eight helpers and Oksanen has a half dozen of each.
"I think we just have all the components, right?" Greenway said when asked why his line has been so dominant. "We have Ahti and Laner, [who] can shoot really well, and I think just me being in front of the net, by the net, really helps out. I think I do a little bit more of the dirty work, always ready to shoot."
Greenway supplemented that his size is "definitely his biggest asset" and one that he tries to use as much as possible. At 6-foot-5, 230 pounds, that's no secret. But he's not the only one who can benefit from breadth on that line. Oksanen, who stands 6-foot-3 and weighs in at 215 pounds, is a formidable force in the attacking zone for his shot, like Greenway said, and his stature.
"I mean when they get it — and they've got stick skills too — they know how to protect it," Quinn said. "So I don't care who we're playing, if they're moving their feet and not being defendable, it's going to be very difficult for people to handle those two guys."