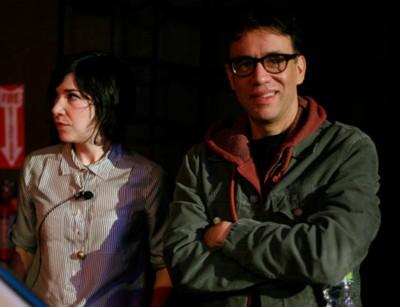 It's only January, but a couple weeks ago, the lineup for this April's Coachella Valley Music and Arts Festival was announced and accompanied by the usual overblown hype. Coachella is infamous, somewhat deservedly, for its outfit-obsessed attendees and the number of concert photos they post on Instagram.
People pay a ton of money to be sweaty and uncomfortable and use Porta Potties for three days just so they can say they were there. The festival and the many others like it are the often the butt of jokes.
The folks behind "Portlandia" were the latest to aim their targets at FOMO-instigating music festivals in the show's sixth season premiere on IFC Thursday. Everyone's favorite comedy duo — Fred Armisen and Carrie Brownstein — is back for ten more episodes of their trademark ultra-specific, hip and in-jokey brand of humor.
Unlike some previous episodes filled with many shorter sketches, "Pickathon" follows one continuous plot. This format will likely characterize following episodes based on the duo's statement in an IFC promo video that this season, they focused more on long-form storylines.
This storyline centers on the Pickathon Music Festival, a real Portland event, filmed on location last summer. Fred and Carrie feel like they need to go but are getting too old to tolerate the unpleasantness of festivals. The solution: an "Absentee Concertgoer Experience™," achieved via drones.
The pair don deadmau5-esque virtual reality helmets and remotely control drones that fly around the festival, allowing them to bypass lines, crowds and the 100-degree heat.
Meanwhile Brownstein, along with previously featured guest star Natasha Lyonne, play two very determinedly boy-crazy girls on a feather-themed "ladycation." They roam around in outfits entirely covered in white feathers looking for boys until setting their sights on a man-bun sporting, tank top-wearing hunk who plays the congas.
"I think we should bite our lips," Lyonne says upon seeing him. Dramatic sound effects and cheesy vignette framing ensue in an amusing parody of flirtation and depictions of drool-worthy dudes.
Of course, things go wrong. One of the drones shears off his bun and the girls can't find the right man-bun guy to return it too — a clever gag.
Carrie and Fred get into a fight via drone with an aggressive biker who manages to track them to their remote location. Headliners and beloved psychedelic rock band The Flaming Lips, played by the band itself, are suffering from in-fighting and decide not to play, forcing their lawyer to take the stage in an attempt to appease the crowd ("They sound so good," gushes a feather-covered, boy-crazy Brownstein).
But leave it to the Lips to restore harmony. In the end, everyone is happy, problems forgotten, once the band reconciles and serenades the crowd with fan favorite ballad "Do You Realize??"
As always, one must be at least somewhat in-tune with the hip culture of Portland to really get the jokes being made in "Portlandia." If you're not familiar with the stereotypical superficial female festivalgoer (a fairly sexist stereotype, I might add), have never been to a music festival or don't know who The Flaming Lips are, this episode will likely be a lot less funny to you.
But even for someone who has been to Coachella several times, has seen The Flaming Lips and typically gets the references made on "Portlandia," this episode was underwhelming.
Despite fun guest stars and some funny jokes here and there, overall the episode suffered from a lack of "laugh out loud" moments, catchy lines and memorable characters. It also felt incredibly safe, never pushing the boundary of absurdity like it usually does. Coming from a show that brought us cultural touchstones like "put a bird on it" and the Women and Women First bookstore, this episode does not live up to it predecessors.
Another problem is the long-form storyline used instead of the smaller sketches. This format worked in past episodes such as the last season's premiere detailing Toni and Candice of Women and Women First's backstory. However, in "Pickathon," the punchiness of short and sweet skits is sorely missed when replaced by a storyline that isn't as compelling.
Brownstein and Armisen's chemistry continues to be magical, but I don't know if that's enough to keep "Portlandia" afloat. This episode has me asking myself, like long-time, too-cool-for-school characters Spyke and Iris might, "Is 'Portlandia' over?"