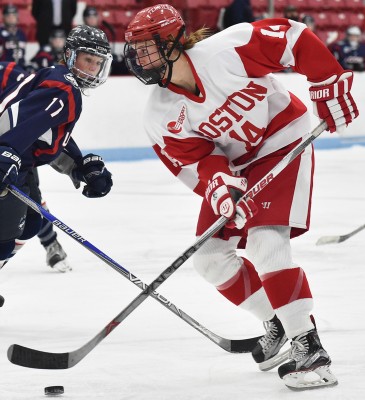 The Boston University women's hockey team came up with a much-needed home-and-home sweep of Providence College this weekend, taking the contests 5-1 and 4-2, respectively.
Fresh off a 6-1 rout at the hands of No. 4 Quinnipiac University on Wednesday, the Terriers (16-9-2, 13-4-2 Hockey East) responded decisively against the Friars (8-17-1, 4-11-1 Hockey East). With the two wins, BU moved within six points of No. 6 Northeastern University for second place in Hockey East.
The Terriers got off to a hot start Saturday under the bright lights of Agganis Arena, tallying two goals before four minutes were gone. Junior defenseman Alexis Crossley cracked the scoreboard first when she snuck a shot past Providence goaltender Allie Morse. Senior winger Rebecca Russo followed up just seconds later when sophomore forward Rebecca Leslie teed up a point-blank look for her at the crease.
Providence cut the deficit to one later in the first period when it capitalized on the man advantage. After BU took a penalty for having too many players on the ice, the Friars used some clever passing to open up a shooting lane for their leading scorer, Christina Putigna. The freshman directed her shot past the stick side of junior goaltender Victoria Hanson for her eighth goal of the season
However, the one-goal Terrier lead quickly escalated to two when Leslie cashed in on a spectacular assist from junior center Maddie Elia. Elia stickhandled her way into the low slot from the faceoff dot and delivered a pinpoint drop pass to Leslie who waited at the far post for her chance to enter the goal column.
After the game, BU head coach Brian Durocher lauded his team's ability to respond, particularly following the Providence goal.
"Responding to the Providence goal was huge," he said. "That one was really big … Providence made a great play on the power play and found the kid on the backside for a goal. And we come back and score probably a minute, minute and a half later and really kind of squelched any momentum that they might have had coming their way."
With a 3-1 lead in hand, BU coasted to the finish line, eventually adding two more goals. Sophomore center Victoria Bach remained red hot with a second-period strike off the dish from senior winger Kayla Tutino. Yet it was Leslie who stole the show when she sent home her third shorthanded goal of the season just minutes into the third period, capping off a three-point effort.
Leslie cited her experience on the power play as a major catalyst behind her success at generating offense off the penalty kill.
"Playing the power play, you realize you take a little bit more time to think about your decisions," Leslie said. "I find that when I'm playing the penalty kill, I can read what they're going to do. I know they're going to be a little bit more lenient so I kind of just attack at certain moments. But it's obviously defense first, and I think that I've been lucky this year to have a little jump and have a loose puck or something that I can get to."
Though the Terriers came out sluggish after the bus ride down to Rhode Island, they still managed to earn the weekend sweep. The Friars came out swinging with two first-period goals from forward Blair Parent. Perhaps still reeling after losing to the Bobcats (20-1-4), BU sophomore goaltender Erin O'Neil flailed early despite making 10 first-period stops.
However, she would not have to worry for long, as the Terrier offense came alive to the tune of four second-period tallies. Elia, Russo, Bach and freshman forward Mary Grace Kelley all scored for BU during the second frame. For Kelley, her goal marked the first of her collegiate career.
Providence could not solve the Terrier defense and O'Neil for the rest of the game, handing BU the 4-2 victory.
"I don't think it was our most efficient game or our best game," Durocher said. " […]We gave up 14 shots in the third period, which, to me, is too many. We had a great second period where we not only scored, but we only gave them five shots. I wish we had closed the deal better, but we found a way, made some real good saves and it's a W."
Despite the Terriers' struggles on the road, Durocher said his team can use these wins over the Friars to gain momentum for the final stretch of the regular season.
"We're just trying to find ways to get a little bit better," Durocher said. "We've been more inconsistent than in years past. We're trying structurally to play well, but we just have to compete a little harder. You win on the road and you have to come from behind, some good points there you can take forward when you're looking toward the big games, the Beanpot, the postseason and the stretch run."