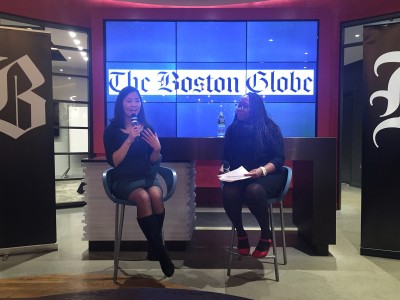 Boston Globe reporter Meghan Irons hosted an intimate conversation with new City Council President Michelle Wu Monday at the Capitol One 360 Café at 799 Boylston St.
The crowd of about 45 included young professionals, homeless shelter directors and even some retired residents.
Wu began the conversation by describing a typical day in her life as City Council president. Wu said she likes the balance between the "big picture" and the "nitty-gritty," but her main responsibility is being a resource for her colleagues.
"I want to leave the council better and more transparent and more substantive and more collaborative than it was when I stepped into this role," Wu said. "The biggest responsibility in my role as City Council president is to provide the best opportunities and support for my colleagues."
Some of the policy goals Wu discussed included criminal justice reform, environmental initiatives, education and housing.
"There is a vicious cycle that exists … that keeps people from accessing economic opportunity," Wu said. "We want to make sure that people who want to live in Boston and want to live in our city can afford a place to do so."
Wu also said that she is in favor of a $15 minimum wage, calling it "absolutely essential."
"It's not right that today people who are working two and three jobs still can't make ends meet," Wu said. "I fundamentally believe that if someone is working a full-time job, they should be able to raise a family and meet basic costs of living."
Wu said members of city government are responsible for this movement's momentum because they are closest to those affected.
When asked about the "mood" in City Hall, Wu said that she hopes to maintain a good relationship with both Mayor Martin Walsh and the City Council.
"At the end of the day, you're not going to agree with anyone on everything," Wu said, "If you're open and honest and take the time to have a conversation about what your view is and what your differences may be, that can also lead to finding common ground."
Wu grew up in the suburbs of Chicago, where politics were hardly part of her life. She is the daughter of Taiwanese immigrants and a granddaughter of immigrants from China to Taiwan. As the product of a family who fled from government oppression, Wu said politics were never a part of her family's conversations.
"For them, politics represented all sorts of dangers for your family and all these horrible outcomes," Wu said. "The philosophy was that you work hard, you keep your head down and eventually your successes will be recognized."
Several attendees said that the conversation was a good way to promote a connection between policymakers and Boston residents.
Aubre Carreón Aguilar, 29, of the West End, said she was impressed that Wu is trying to engage with citizens.
"Being civically engaged is important and something that is accessible to everyone, and she's taking that extra step to do that," she said.
Attendees also said they were inspired by Wu's accomplishments and her goals for the future.
Rachel Lake, 23, of Jamaica Plain, who is also an administration and technical assistant at City Hall, named affordable housing is the most important issue that Wu discussed.
"It's kind of a collective issue," she said. "When you look at housing and the economy and homelessness and mental health issues, housing is the center piece."
Leah Campbell, 23, of Jamaica Plain, said she wished she had heard a response to Boston's recent ranking as the city with the most income inequality in the United States.
"While she did talk about the amazing work she's done with paid family leave, there wasn't as much focus on income inequality, particularly between men and women," she said.
However, Campbell was particularly inspired by all of Wu's accomplishments at such a young age.
"Knowing that there's someone there who really understands the experience we're having in a position where she's communicating with really important people is really nice to know and really important to hear," she said.