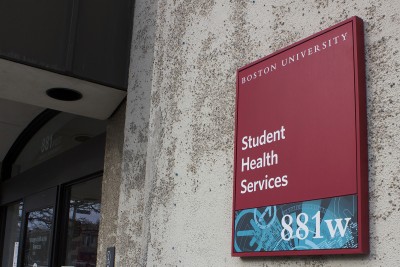 As a response to rising mental health cases across the nation, Boston University Student Health Services introduced a new training program for students and faculty to identify students struggling with mental illness, BU spokesperson Colin Riley said.
The training program, Terriers Connect, is co-sponsored by the department of Behavioral Medicine at SHS and the dean of students, Riley said. Although Riley could not confirm an official launch date for the program, Terriers Connect will focus on training peers and faculty in the future. Both parties will then earn to recognize early signs of mental illness, speak with struggling students and encourage them to seek counseling.
Terriers Connect is an adaptation of Campus Connect, a program created by Syracuse University used on approximately 200 campuses in the United States and Canada, Riley said. The program focuses on building a community for distressed students to talk to "peers" before seeking professional attention. BU's new program, however, will train participants to reach out to students in crisis and refer those who need assistance to counseling.
Dori Hutchinson, director of the BU Center for Psychiatric Rehabilitation, said the program's development follows a national trend of increased concern regarding students' mental wellness.
"Mental health problems usually develop when people are young adults," she said. "Eighteen to 25 [years old] is the time in which most people begin to experience mental health problems. We know suicide is the second leading reason for why young adults die in the [United States], so it's important we pay attention to it on campuses."
Ninety-five percent of center directors reported an upward trend in the number of students with reported mental health problems in the 2013 National Survey of College Counseling Centers. Seventy-eight percent of 148 directors reported an increase in the complexity of students' problems since 2008, the survey cited.
Hutchinson said educational institutions should focus on creating a positive environment with open discussion to support students facing mental health issues.
"The best way a school can prevent students [from] harming themselves or others is to create a culture of caring," she said. "[Schools] should publicize that people's mental health matters, we care about our students and we care about each other. When we witness distress in each other, we are empathetic to it. And that's really what Terriers Connect is about."
Riley said the program recognizes the anxiety "gatekeepers" may experience when speaking with struggling students and provides training through discussion and role play to handle delicate situations.
This program is not the first network of peer training at BU concerned with mental illness, Hutchinson said.
"We had a suicide prevention grant here at BU from 2009 to 2013 and we trained over 1000 people in listening with empathy skills," she said. "It utilized an evidence-based practice called the Student Support Network, which helped inform the development of Campus Connect."
Hutchinson added that schools should develop effective methods to support mental health care that assists students to succeed.
"There's a moral and ethical reason to attend to mental health," she said. "This is when students are beginning to build the foundation for their adulthood, which is impossible without good mental health, so more and more colleges are paying attention to it."
Several BU students said they welcome the new program as a positive development but believe the BU campus needs additional resources to better address mental health.
Robert Fuller, a freshman in the College of Communication, said he believes SHS needs more programs like Terriers Connect so students can get the help they need.
"I'm absolutely in favor of this program," he said. "Mental health is a big problem on campus. I wouldn't call it an epidemic, but I think it's a big problem especially with seasonal affective disorder and stress from classes."
Danielle Asbel, a sophomore in the College of Arts and Sciences, said SHS isn't as accessible as it should be to students suffering with mental illness.
"I have friends who aren't getting help because SHS is not accessible enough," she said. "Only certain people can get appointments with professionals. I have friends who could get an appointment weekly and I have friends who were referred off campus to somebody."
Ana Marqués-Jackson, also a sophomore in CAS, said she thinks the new program is one of the many steps to treat the issue of mental health on campus.
"Mental health issues are really prominent on college campuses, and I definitely don't think BU and schools in general do enough to help students with that," she said. "The program is a good step in the right direction, but we could definitely be doing more. It's good to have this step where you have faculty and students trained to find the signs of depression or suicide among students so that seeking help is a little more tangible."
Ellen Cranley contributed to the reporting of this article.