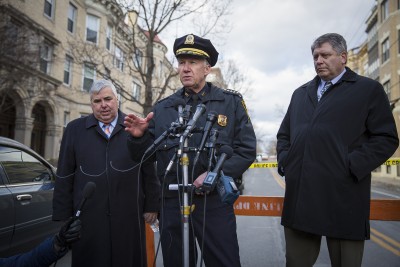 An altercation in Brookline Wednesday morning resulted in the shooting of two people and the stabbing of another, Brookline Police Chief Daniel O'Leary said in a statement to the press. The three male victims, who were found at two separate locations, were both in stable condition as of Wednesday afternoon.
"It is very rare that this happens," O'Leary said. "Our officers are well-trained, and we are ready for situations like this."
The investigation began around noon after the Brookline Police Department received a phone call reporting a disturbance at an apartment on 198 St. Paul St., O'Leary said. The victim found inside the building was afflicted with a stab wound and several gunshot wounds to the leg. While police were investigating, the department received additional calls regarding two men lying in the street near 75 Harvard St., who looked as if they had been stabbed or hit by a car.
It was unclear to the department how exactly the two men ended up in the street, O'Leary said. However, the police said they were confident that a white Ford Focus, which sped from St. Paul Street to Harvard Street, was involved.
"We don't know exactly how the people got out of the vehicle, whether they were thrown out or they jumped out," O'Leary said. "All we know is the car fled the area right away, as well as what may have been a fifth subject fleeing on foot."
Boston University informed students at approximately 1 p.m. via the BU Emergency Alert System. Although BU spokesperson Colin Riley said he could not comment on the off-campus investigation specifically, he said the administration sent out the alert to let students know what was happening about seven blocks south of campus.
"People pass through that area, and they might've had to move a couple of different blocks if they had business there, or they could've [been] delayed," Riley. "It's helpful to know that. But there's no safety concern to campus."
Scott Paré, deputy director of public safety for the BU Police Department, echoed Riley and cited public interest as the main reason behind the alert.
"It's far enough away from campus, but we do know that people go through that area," Paré said. "We just want to let them know what was going on and why all the police cars were there. We know they get curious."
Several students said they appreciated BU's efforts to promote safety and inform the student body of nearby incidents.
"I do normally [receive alerts]," Sophie Brantingham, a freshman in the College of Arts and Sciences said. " … They're super quick and you get a call as well — they really bombard you with stuff. So it's normally quite good."
Miranda Depalma, a freshman in the College of General Studies, said she was not concerned about her safety due to the crime scene's off-campus location.
"I don't think I really have to worry about [the incident]," Depalma said. "I'm glad they [BUPD] alerted me about it, but I don't really know what's going on. Basically, it's good that they told me to look out for certain areas."
Boston-area residents, particularly those living closer to the crime scene, expressed more concern about the extreme acts of violence.
"I am in a bit of shock [regarding] the shooting and stabbing, but not very shocked because Boston is not crime-free, and there are still parts of Boston where people still get shot," Simer Sawhney, 35, of Brookline, said.
Another resident said it was especially alarming that the shooting and stabbings occurred in Brookline, a neighborhood considered by many to be safe. Jessica Rymer, 25, of Fenway, said she did not anticipate this kind of incident at her current neighborhood due to her experience living in other areas of the city.
"I used to live in Dorchester, so I'm used to these sorts of things near where I live," she said. "Mostly, I was just disappointed because I thought I had moved to somewhere safer where this kind of stuff didn't happen. St. Paul Street and Harvard Street are literally along the route I take to work … When I got out of work, I got 27 messages from my friends. Most of them were saying, 'I can't believe this is happening. This is Brookline.'"
Brianne Garrett, Caroline Hitesman and Alex Li contributed to the reporting of this article.