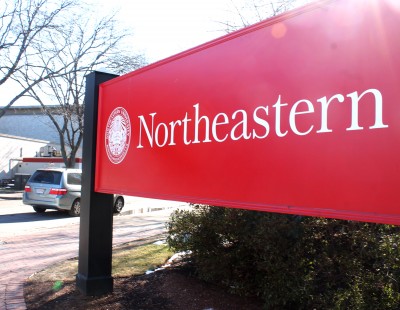 Boston City Councilors Josh Zakim and Tito Jackson filed a hearing order Monday to discuss Northeastern University's decision to arm its police officers with semi-automatic assault rifles, according to a Monday press release.
Prior to filing for a hearing, the councilors wrote a letter to Northeastern President Joseph Aoun Dec. 10 expressing their concern about the matter. The letter condemns the Northeastern University Police Department for its rejection of Boston Police Department Commissioner William Evans's suggestions and for its failure to conduct any community outreach before making the decision.
Councilor Zakim said his concern was for the safety of the Boston community.
"Essentially, Councilor Jackson and I were concerned for our city and our community," Zakim said. "Boston police don't usually use weapons like this … Commissioner Evans and the BPD have advised against … these weapons."
Councilor Jackson said he was also disappointed that Northeastern failed to discuss the decision with the BPD.
"It strikes me as ironic that the police department for Northeastern is about five blocks from the police headquarters of the BPD," Jackson said. "There could have easily been conversation prior to this issue."
Zakim said Northeastern also neglected to involve the community surrounding its campus when making the decision.
"Northeastern didn't undertake any community outreach or any real engagement with the neighboring communities of Mission Hill and Roxbury," Zakim said.
When NUPD failed to respond to the letter in a satisfactory manner, Zakim and Jackson said they felt compelled to file a hearing order to further discuss the issue at hand.
"Northeastern usually does a pretty good job of reaching out to the community," Zakim said. "It's disappointing that they chose not to do any meaningful outreach in the nearly two months since we sent the letter."
Jackson and Zakim said community outreach is incredibly important, especially when it comes to matters of weaponry.
"It is critical that a college in an urban area, like Northeastern, [has] communication, collaboration and coordination with the community they reside in," Jackson said. "Northeastern is not in a vacuum or a bubble, and so the decisions that are made there affect the neighborhood, the community and the people around it."
The decision also startled many Northeastern students, who said they were not involved in the decision-making process.
"I've heard from several students who are very angry or concerned about the implementation of these military-style assault rifles," Jackson said.
Zakim added, "I don't think they engaged their students or faculty that much either."
The hearing order is meant to provide a forum for President Aoun and other decision-makers at Northeastern to hear from the Northeastern community and the surrounding communities.
"I personally am in disagreement with the addition of these military assault rifles," Jackson said. "It is important that Northeastern hears from the neighborhood and community that is around them."
Leading up to the hearing, Zakim said he and Jackson are excited for people to have an opportunity to discuss the situation.
"We're looking forward to a hearing in the Public Safety Committee at the Council to have that forum for folks to hear about this decision and to examine its merits," Zakim said.
Several Boston residents said they were concerned by the decision to equip NUPD with assault rifles.
Jennifer Lee, 31, of Allston, said she's glad that councilors Zakim and Jackson filed the hearing order.
"I just never thought that type of weaponry would be needed on a campus," she said. "Even though their security is specific to their campus, that campus is located within a city. It doesn't just affect the Northeastern campus, it affects the whole community."
Thomas Lee, 56, of Brighton, said he was surprised to learn about Northeastern's decision to use semi-automatic weapons.
"I always thought of universities or colleges as peaceful areas where you should not need those kinds of guns," he said. "Having semi-automatic guns on a campus doesn't sound right to me. I'm worried about what kind of precedent this will set for other schools to follow."
Abi Moore, 27, of Brighton, said she, too, was shocked to hear that the NUPD will now be armed with assault rifles.
"This seems excessive," Moore said. "My daughter is only eight weeks old, but if she was going to college in the city and all of a sudden the police on her campus were armed with assault rifles, I'd want to have an input. I think that the community should be involved in the discussion."