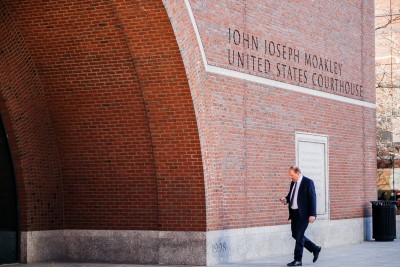 U.S. District Court Judge George O'Toole ordered Tuesday the release of more than 600 court files kept under record during the trial of convicted Boston Marathon bomber Dzhokhar Tsarnaev, according to Marcia Patrisso, a court reporter for O'Toole.
Tsarnaev was convicted and sentenced to death for the 2013 bombing attacks at the Boston Marathon, in which he and his brother, Tamerlan, put two bombs near the finish line of the marathon. Three people were killed and more than 260 were injured during the attack, The Daily Free Press reported on May 16, 2015.
While most cases in the federal system are completely open to the public, national security cases such as this one are sometimes kept private throughout the duration of the trial, said Daniel Medwed, a professor at the Northeastern University School of Law.
"In very high-profile, sensitive, sophisticated cases such as [this] so-called terrorism case, the court and parties are a little more vigilant about protecting privacy interests," Medwed said. "That concerns the intimidation of witnesses or … maybe having a chilling effect on the victims coming forward or feeling comfortable testifying."
Medwed said this is likely why O'Toole waited such a long time to release the documents.
"Judge O'Toole certainly waited a pretty long time," Medwed said. "I mean, the trial was over eight months ago in May. He could have possibly released it sooner, but I think one of the reasons why he acted now is that he had recently turned down post-trial motions for a new trial."
Medwed added that those interested in the case academically or professionally might be interested in going online and viewing the documents, but that average citizens might not be as curious.
"Public fascination with the trial has diminished," he said. "I don't anticipate lots of people going to the U.S. District Court website and reviewing all these motions and documents for a trial that happened eight months ago."
Medwed also said unsealing the documents is a reflection of the U.S. District Court's transparency in such cases as this one.
"There is something terrific about transparency in the process," Medwed said. "Our systems aren't perfect for access to information … but there is something nice about the fact that the judge is now making [the papers] available for us to, in theory, at least scrutinize."
Robert Bloom, a professor at Boston College Law School, said the release of the documents ties into constitutional rights.
"There's a glance between the public right to know and the sensitivity of the material being released," Bloom said. "The balance usually favors release, because of First Amendment values."
Several Boston residents shared their beliefs regarding O'Toole's release of Tsarnaev's files.
Kristen Ramaci, 21, of Fenway, says she would be interested in reading the trial papers, as the bombing was a historical event for many Boston residents.
"It's something I think a lot of people are passionate about and want to keep updates on," she said. "I would be interested in reading them."
Jim Heal, 36, of Downtown Boston, said he thinks Boston residents have a right to view Tsarnaev's files.
"The residents of Boston have a right to understand the full picture of what happened that day," he said. "It relates to the extent to which they feel justice was done, both in terms of what happened to the people involved and also for the families of the victims."
Scott Robson, 42, of Jamaica Plain, said even though he thinks Boston residents have a right to read the documents, he would not read them.
"I think people have a right to read them, but I personally wouldn't," he said. "I think there's something voyeuristic about that. He's received his sentence and the less we think about him, the better."