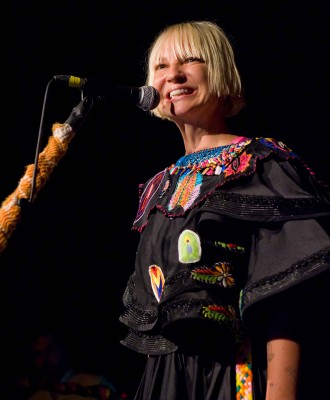 To say that Sia has undergone a lot of musical changes in her career would be an understatement. Before hits like "Chandelier" and "Elastic Heart," Sia was mostly overlooked, doing vocals for a few different bands and releasing a couple of small hits.
The explanation behind Sia's latest album, "This Is Acting," is that the majority of the songs were written for other artists, such as Adele and Beyoncé, and rejected. "This Is Acting" takes these snubbed tracks and attempts to make them Sia's again, creating a full, cohesive album. This unusually outward and honest concept of an album proves that she is still a vocal powerhouse and a talented songwriter with the ability to give pop fans something to chew on.
The album starts out strong with "Bird Set Free," an empowering track about someone prevailing after struggling. Lyrics like "Clipped wings, I was a broken thing / Had a voice, had a voice, but I could not sing / You would wind me down / I struggled on the ground / So lost, the line had been crossed," tell a story of someone put down.
By the end of the song, however, she's belting, "I'll shout it out like a bird set free." The track is uplifting and makes it easy for anyone listening to feel good.
This leads straight into "Alive," one of the singles from the album, which has a similar message. No matter what has happened to her in the past, Sia's still alive.
Although most of these songs are supposed to be for other artists, Sia sounds like she's telling her own story here. At 40, she's lived seemingly an entire musical lifetime and yet she's still developing, still creating her sound despite those who put her down.
"Move Your Body" is a more upbeat, club-music type of track, which has a very Rihanna-like vibe. "Reaper," the actual song meant for Rihanna and produced by Kanye West, misses the mark by a bit when sung by Sia. Some of the tracks come so close to being great, but there's not as much of an innovative spark to them as Sia has provided in the past.
"Sweet Design" is short but absolutely sweet, as the name suggests. As the shortest song on the album, the track is buoyant and choppy, but not in a bad way. A brass touch to the instrumentals makes it stand out from the rest of the album. This track is not generic in any way. It sounds like a song for Sia, by Sia.
Her outstanding voice makes these songs noticeable, preventing them from falling flat and making them worth listening to more than once. As one of the last tracks on the album, "Broken Glass" could be a nothing-special ballad, but her vocals bring it back with not one, but two gorgeous key changes. Sia's voice never falters for a minute — her crooning and belting accompany each other perfectly.
It's bold for Sia to be real with listeners about where these tracks came from, which creates an interesting guessing game trying to figure out which one was supposed to be for which artist.
"This Is Acting" is successful as an album, but it's sometimes a little generic, potentially because each song was supposed to be written for a different pop artist. Sia should not be overlooked, but her flair and what makes her unique gets lost in some of the songs where there's clearly less of a personal touch.
As a follow up to her first big album, "1000 Forms of Fear," the album falls a little short, but at the core, Sia's spunk and passion that set her apart are still there.
"This Is Acting" shows a great deal of potential but doesn't really break any molds. Simultaneously, it shows Sia's continuous rise from the ashes, pushing past what could be seen as industry failure to make a name for herself.