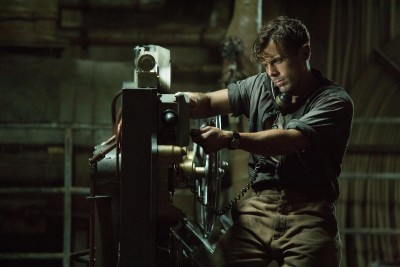 A typical rescue mission film consists of a few key elements: a damsel in distress, the valiant rescuer, a beautifully scraggly crew of supporting characters and, often times, a dash of truth. Craig Gillespie's "The Finest Hours" follows this formula, all while turning it on its head.
The distressed figure appears in the form of Casey Affleck's Ray Sybert, an officer stranded off Cape Cod with his crew after a formidable nor'easter essentially cracks their 500-foot oil tanker in half. Chris Pine swoops in as the all-American Bernie Webber, a U.S. Coast Guard sailor armed with a small wooden boat and enough tenacity to fight the Atlantic. A gaggle of attractive actors — Eric Bana and Ben Foster among them — make up the supporting cast, and the film's roots lie in a published account of the events that unfolded in February 1952.
It's all well and good, but Affleck had his doubts.
"I'm not sure it's true, but they say it is," he joked in a conference call interview with The Daily Free Press. "I guess that's enough to make a movie, you know?"
After returning to his home state to begin the filming process, the Massachusetts native took matters into his own hands and visited the Coast Guard Heritage Museum to further research his character's "forgotten story."
"No matter how much I heard or read about it, I was still really surprised by how the ship was and to think of how big those waves must have been to split a 500-foot oil tanker in half," Affleck said. "It's the kind of thing you want to see someone make a movie out of so you can go and watch it."
Gillespie fulfilled that wish when he teamed up with The Walt Disney Studios to create an action-heavy adaptation of a book by Michael Tougias and BU alum Casey Sherman. Affleck, well known for his roles in the Massachusetts-based films "Good Will Hunting," "Gone Baby Gone" and recent Sundance critical darling "Manchester by the Sea," had no trouble accepting another opportunity to come home.
"I'm living out in California for the time being just so I can work, and [because] that's where the industry is, but I'd much rather be here," he said. "Boston is a great place to make movies because they've been making movies for a long time … It's horrible out there in California. When you come from the great Commonwealth of Massachusetts, why would you want to go live out there?"
Unfortunately, California native Pine arrived too late to hear and respond to Affleck's commentary. After laughing along to Affleck's booming welcome — "Chris Pine has just joined us!" — Pine focused instead on his admiration for his character.
"I love Bernie because he loves his job and loves his woman and wants to do his job and love his woman and have a bunch of kids and live happily ever after, which he did for a long time," Pine said. "There's an honesty and truth to him. He's just a good, solid man who goes about business not seeking any sort of pat on the back. It's just because he wants to do right."
Affleck also applauded the characters' valiant souls, especially considering the sheer size of the challenges they face.
"The Finest Hours" itself faces two major obstacles, the first being that the disaster genre has seen a major uptick in recent years, and the other that the film was released during the annual industry lull between Oscar contenders and warm-weather blockbusters. There is a careful balance needed for the film to stand out, but Affleck and Pine were confident that the characters' depth would be enough to draw audiences in.
"Chris is talking about the inner compass of the [men]," Affleck said. "They lose their compass and they still find their way because there's an inner moral compass that guides them. There's selflessness and heroism in the face of 50-foot waves."
Further establishing his position as the quirkier Affleck brother, Affleck steadily delivered the following commentary on his character Ray:
"I didn't really learn anything from the guy because there wasn't a whole lot of information about him," he said. "He's more or less just a piece of fiction of the screenwriters, who did a really good job fitting [him] into the story. I didn't have the same opportunity [as Pine] to study a life, so I just sort of had to make some stuff up."
It's all just a part of the job. While film adaptations of literature and real life are generally enhanced, Pine said his own status as an actor is what allowed him to relate to and later learn from Bernie's emotions and feelings, despite never having experienced anything remotely close to 70-foot waves and zero visibility.
"I learned a lot from him about that," Pine said. "There's a purity in wanting to do your job well and to serve other people because you don't need much more than that. Often times in our business, it's all about stuff that's completely opposite from that, which is getting your picture taken, Twitter-ing and all that kind of s— that I think takes away from good values.
Promoting these kinds of values is typical of Disney, and "The Finest Hours" joins the ranks of the company's distinctly moral live-action films, such as "Saving Mr. Banks," "Million Dollar Arm" and "McFarland, USA." It is this very aspect, Affleck said, that is most attractive about the film.
"I like what Disney is doing," he said. "They make a great effort to make movies that have a strong message and a good story and characters. This one is particularly exciting, but it also supports the cast and the core values. That might sound old-fashioned and hokey, but it's refreshing to see a movie like that."
"The Finest Hours" is now playing in theaters nationwide.