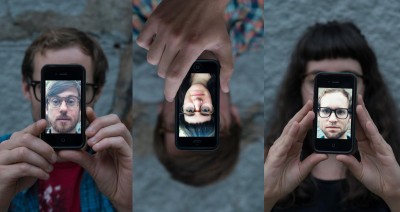 Ian Gustafson, Matthew Mara and Zoë Wyner make up the trio halfsour, a Boston-based band that just released its fourth digital album, entitled "Tuesday Night Live," Friday. Though the band's members have certainly made their appearance on the music scene via past releases, their sound as well as their career in the industry itself is fairly new.
On its Bandcamp page, halfsour labels its sound as "rock" and "power pop." This is true in the sense that the trio's music is not "classic," but its tone is not conventional to the two aforementioned genres either.
The band's first album, "half sour," was released in May 2013. Since halfsour is still new to the local music scene, a genuine introduction to it would be to first listen to "What You're Waiting," which is currently the track featured on the band's main page.
The group's "rock" is softer and more closely aligned with the "indie" genre than typical convention would imply. The drums are present, but not prominent. The same can be said for the guitar and the bass and the slew of other various instruments involved in the making of each piece.
Overall, halfsour's sound is mellow yet strong, which makes it apt to any particular scenario: on full blast during a car ride, in earphones at the library while studying for a test or at a popular club in a city.
The titles of their pieces could be imagined as the titles for episodes of a Saturday morning cartoon episode. Upon listening to the actual tracks, though, the listener becomes more pensive. "Mood Monster," for instance, boasts a relatable thought that could pertain to a myriad of encounters or situations: "I've heard this before / and I don't want to hear it anymore / your voice is fallen flat / but you don't need me to tell you that."
The band is also unique in the sense that there is no one lead singer. Vocals are shared between Gustafson, Mara and Wyner. The addition of a female voice from Wyner in particular adds a sense of unification to the whole group in its diversity and allows for more varying tones.
"Tuesday Night Live" contains 13 songs in total. Out of these 13 tracks, only three songs span more than three minutes each. These include "IK," "Employees Must Wash Hands" and "Mood Monster."
In terms of sound, these longer tracks do not vary much from their shorter counterparts. An eclectic blend of instruments, along with softer rock vocals, is still preserved. The content varies, of course, as is the case for all songs on the new release. No centralized theme exists within the album. In fact, the meaning behind any piece is a task to decipher.
"You leave the hot on / You leave the cold on / Like a supernova / Don't wanna know you … don't you say," from "Employee's Must Wash Hands," possesses just as many — or as little — connotations as, "There's an answer out there / Gotta be something out there / To get me out of this … I can't help but feel like / this is a fake sandwich," from "Fake Sandwich."
Whether the mysticism of the lyrics' meaning is enticing or not is up the individual listener.
As much of a mystery as these lyrics may remain, halfsour's music is addicting. Repetition in the band's songs frequently makes them catchy and memorable. The only bad part about the choruses is that they'll be stuck in your head for quite some time.