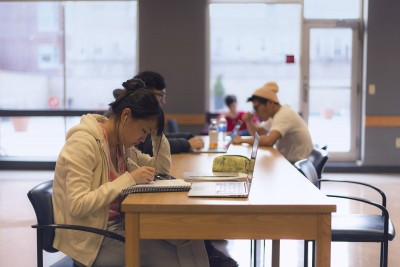 Boston University Admissions now recommends that Korean, Taiwanese and Chinese applicants use a third-party interview service called Vericant to send additional English proficiency proof to universities, according to the admissions website.
Vericant provides "verified video interviews," and international students, primarily those from China, can choose to add the interviews to their college applications along with their Test of English as a Foreign Language or International English Language Testing System scores. Vericant employs an interview system that also rates each applicant's English proficiency and verifies each student's identity, according to the Vericant website.
BU spokesperson Colin Riley said the service is available as an opportunity for potential students to demonstrate interest and language proficiency to supplement the required TOEFL or IELTS results.
"It's in any student's interest who [has] a demand for proficiency in the language in which they are going to be studying," Riley said. "It's an option for the students to choose if they feel it will aid them in the process."
Keith Vincent, chair of the Department of Modern Languages and Comparative Literature in the College of Arts and Sciences, said he senses there is a lot of concern about fraudulent test scores in China in particular, though he has not researched the topic.
"There's a whole industry of people who generate perfect test scores," he said. "I don't know how they do it, but that's been a real concern that you can't rely on the test scores."
According to a Jul. 30, 2015 report titled "Black Cats On Skype – An Introductory Guide to Fraud in China Admissions and the Factors to Consider," an influx of Chinese students studying abroad cultivates a market for unethical agents engaging in "'bulk processing' fraudulent applications."
Vincent said he has approximately 70 percent non-native English speakers in his classes, but that does not disturb him from teaching students written and oral communication.
"We often assume that if someone's English isn't perfect, then they also can't write if they make a lot of grammar mistakes," he said. "I find you can work with students like that — students that have the basic skills to write and just need a little help with the grammar."
Vincent added that he didn't consider international students to be at an impossible disadvantage in written academic work.
"Many American students can't write, and many Chinese students can't write," he said. "So I think you have to separate those two issues, to some extent."
Vincent said international students in writing classes can still be successful having English as their second language.
"Writing ability and your ability in a foreign language are correlated, but they're not necessarily the same thing," he said. "I have many Chinese students, for example, who may have problems with the mechanics of grammar, but they know how to put together an argument."
Several BU international students said Vericant is useful but presents some challenges in trying to give college applicants more opportunity to strengthen their applications.
Eric Su, a freshman in the College of General Studies, says his application process was different because he went to an American boarding school in China and didn't feel the need to take advantage of Vericant.
"From what I've heard, the competition is really high in Asia, and kids are smart," he said. "They want to get into good schools, so they fake their tests and essays. My school was considered more legitimate. They trust American schools [in other countries]."
Dizhou Chen, a junior in the College of Arts and Sciences, said he had not heard of Vericant, so he only used the TOEFL and SAT.
"My English is the same as most of the international students I have met," he said. "But I took ["Writing 97"], and that class was helpful for fitting in and understanding how this whole university works, and it was good to know other international students."
Yisong Jiang, a freshman in CAS, said Vericant would be beneficial to all international students.
"There are some bad people who made fake exams, so maybe Vericant can help because that's not fair," she said. "If the American universities accept Vericant, it should be taken by all international students, otherwise it doesn't make sense."