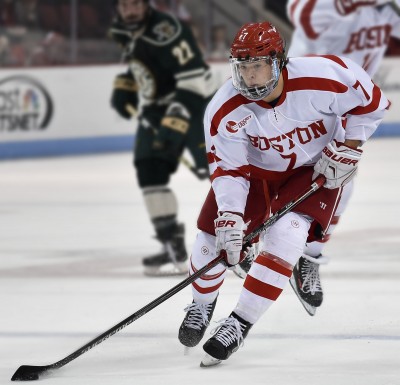 Senior assistant captain Danny O'Regan had just crossed the blue line into the middle of the attacking zone roughly 16:30 into the first period.
With defenseman Jarrett Fennell directly in front of him, the winger opted to drop the puck off for freshman defenseman Charlie McAvoy, who was supporting him down the right side instead of trying to take it deeper himself. McAvoy collected the puck and with some help from O'Regan, evaded Fennell's last-ditch defending.
Fennel's defensive partner, Matt Benning, was in the midst of closing in on McAvoy, but the slight delay was just enough for the blue liner to place the puck perfectly in the top left corner of the goal. It went in, came out and gave the No. 9 Boston University men's hockey team a 2-0 lead over Northeastern University during Monday's Beanpot semifinal matchup.
"Danny did a great job of skating in and backing their two D up," McAvoy said. "And then when he dropped it to me, I saw I had some space to walk in and shoot it, and I saw a little bit of net and went for it."
The tally would end up being the game-winner for the Terriers (15-7-4, 8-4-3 Hockey East), who defeated the Huskies (9-13-4, 4-8-3 Hockey East) by a score of 3-1 to send them to the Beanpot championship game for the second-straight year to face No. 4 Boston College.
Understandably, it was something McAvoy said he had been anticipating.
"Coming in, you choose to go to a school like BU to play in the Beanpot," he said, "and it was everything that it was hyped up to be."
Charlie doubles the lead with a pretty goal on the rush! #BUBeanpot pic.twitter.com/ptvAOtn3R4

— BU Men's Hockey (@TerrierHockey) February 2, 2016
Even prior to arriving at BU, McAvoy was lauded for his offensive abilities as a player. It was clear fairly early on that it was a strong part of his game, as he netted his first goal of the year during the Terriers' season opener at Union College and then added a helper in their second game versus the University of Wisconsin.
To date, McAvoy now has a pair of goals and 12 assists for 14 points, which is tied for second on the team among defensemen with senior captain Matt Grzelcyk.
"I think that the offense is a great part of my game," McAvoy said. "I think it's something that helps me kind of separate myself from other players. I think that whenever I can contribute or offensively be a part of the game, I try."
But the freshman also stressed, "It's really just D first, and then whatever you can do plus that."
McAvoy didn't begin the year where he is now, in terms of defensive ability. He has made visible improvements to his game since first taking the ice for BU, and he attributed the majority of his progression to BU head coach David Quinn.
"He's really helped me a lot from the beginning of the year to now, and it's been a lot of development," McAvoy said. "I started off kind of not really sure exactly. I finally had to learn how to play defense, and Coach Quinn has done a great job of helping me grow a lot as a player, especially defensively."
Part of those improvements, he said, are about playing BU's system and "buying into" its defensive system. It's one that emphasizes man-to-man coverage down low and refraining from puck-watching.
"Just taking care of your guy, and making sure that he can't have any impact on the play," McAvoy said.
After BU's 1-1 tie with BC (18-4-4, 10-1-4 Hockey East) back on Jan. 16, Grzelcyk said McAvoy was "obviously" a great player and noted that he had grown a lot. When McAvoy plays a simple game, the captain said, he's the most effective.
"If he gets a chance, he can definitely take it and use his size and skating ability to his advantage," Grzelcyk said.
The defenseman has become a fixture in a group of freshman who have contributed to BU's victories during the season, and Quinn praised that class Monday night for its efforts.
"I think these guys are getting older. They're starting to understand what it takes to have success," he said. "We've played in some big games … It kind of forces you to grow up in a hurry. These kids work hard. They do a great job. We thought it was going to be a matter of time, and they have grown up here in the last few months."