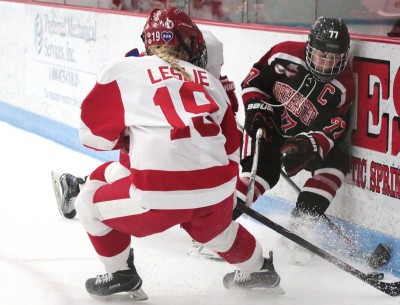 The Boston University women's hockey team faced a tall task in the semifinal game of the 38th Annual Beanpot Tournament held at Walter Brown Arena, stopping Northeastern University's captain and U.S. Olympian Kendall Coyne.
Coyne came into the contest as the country's leading scorer with 36 goals and 64 points, just ahead of No. 1 Boston College senior and fellow Beanpot participant Alex Carpenter (63 points). She broke the Northeastern (24-4-1, 18-2 Hockey East) record for career points on Jan. 10 and has since upped her total to 231.
In addition to her achievements at the collegiate level, Coyne has distinguished herself on the international stage as well. In 2014, the Palos Heights, Illinois native won a silver medal with the U.S. National Team at the Olympics in Sochi, Russia. The then-sophomore tied for the team lead in points with six in five games.
Coyne's chief foe at the Olympics was also her nemesis back home — the now-graduated Marie-Philip Poulin. BU's (17-10-2, 14-4-2 Hockey East) career leader in points (181) scored the overtime winner for Team Canada to defeat Coyne and the U.S. Team in the gold medal game.
Her dominance did not stop there, though, as she also got the upper hand when the two returned to the commonwealth, going 3-1 against Coyne during her senior campaign, including a 6-1 rout in their Hockey East Semifinal matchup en route to the Terriers' fourth consecutive conference title.
However, this time around, there was no Poulin to stand in Coyne's way.
"It kind of hit me today when I was standing on the line before the game," Coyne said. "You know, I usually stand right across from [No.] 29 on the blue line. You know you recognize that she's not there. She's an unbelievable player and someone I've been fortunate to play against, obviously at this stage and the international stage as well."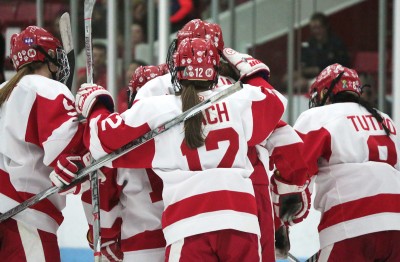 In the absence of Poulin, Coyne was simply no match for BU, as she potted the game-tying tally in the second period and scored the decisive blow in the third to help Northeastern, tied for fifth in the country, to the 3-2 victory. The two goals give the senior 38 for the season, a new career high.
Durocher underlined how much Poulin meant to BU, particularly against other high-caliber players like Coyne. However, he also said that his team must adapt after losing its star.
"[Poulin] was a fantastic defensive player," said BU head coach Brian Durocher. "I always equate her to [former NHL player] Ron Francis, a great player who played for [the] Hartford [Whalers] and a few other teams. We've got to deal with what we have right now."
Coyne's performance underscores a major issue the Terriers have faced all season long – finding ways to slow down elite scorers. Early on in the season, sophomore center Victoria Bach and junior center Maddie Elia limited Coyne's impact when they held her to just two assists on Oct. 24. However, in the same game, Coyne's linemates, Denisa Krizova and Hayley Scamurra, racked up two points apiece in a 7-1 drubbing.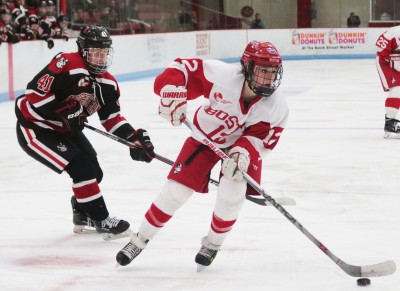 Similarly, in two matchups against BC's (28-0, 19-0 Hockey East) dynamic duo of Carpenter and classmate Haley Skarupa, the Terriers have been exposed. In the teams' latest tilt on Jan. 9, Skarupa exploded for all four Eagle goals in a 4-3 win.
Coyne acknowledged how much Poulin's loss has impacted the Terriers' all-around game.
"They definitely miss her," she said. "It's a different game. But again, they play with what they have and we're the same way, just going out there every day and giving a 60-minute effort."
Northeastern head coach Dave Flint offered an especially candid response to playing a Poulin-less BU.
"I don't miss her," he said with a chuckle. "They'll be saying that about Kendall next year."