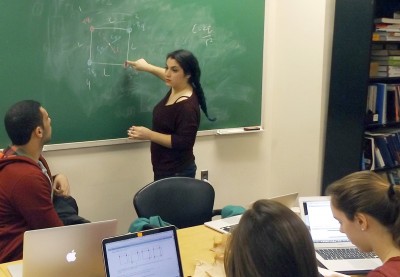 The Boston University Task Force on Faculty Diversity and Inclusion has prepared an interim report outlining a set of recommendations for the university to increase the proportion of minority faculty members, according to an email statement from the Task Force co-chair Gene Jarrett.
The Task Force, organized to find ways to develop and retain a diverse faculty at BU, plans to submit a final report to Provost Jean Morrison and President Robert Brown on May 1, Jarrett said. Members of the Task Force include university staff and faculty from nine colleges, according to the Task Force website.
"In the next few months, we focus especially on the culture of inclusiveness at BU," Jarrett, associate dean of the humanities faculty, said. "We have commissioned a qualitative study of the experiences of underrepresented minority faculty at BU. [The report details] … our examination of data about the racial and ethnic make-up of faculty at BU and peer institutions."
The Task Force is scheduled to hold town hall-style meetings for faculty members of each specific school so they can gather comments and suggestions from each other, according to the website. The Task Force is also expected to notify campus-wide faculty members at the Faculty Assembly during the spring meeting.
"It is our hope that, through these meetings, the efforts of the Task Force will be highly visible and will significantly increase the level of dialogue on our campuses," the Task Force mission statement states.
The Task Force also intends to talk to students for input on development strategies for recruiting and retaining a diverse faculty, Jarrett said. The exact time for student meetings still needs to be decided, according to the website.
"Along with continuing to meet with faculty, we are working with Dean of Students Kenneth Elmore on arranging various forums so that we can talk with students," Jarrett said.
While Elmore is not a member of the Task Force, he said conversations and an exchange of ideas between the Task Force and students will be beneficial to the process of finalizing the report.
"[The Task Force] will be given a chance to talk to students and see their perspectives," Elmore said.
Students said they support the Task Force's mission and look forward to the results, as BU prides itself on being a global university, and having a diverse and inclusive faculty as part of the university community is crucial.
Maya Bogle, a freshman in the College of Arts and Sciences, said having a diverse faculty helps the university's diverse student body feel comfortable in the classroom.
"We already have a very diverse student population," Bogle said, "It's important for students to feel comfortable because you can't learn if you feel uncomfortable or judged in any way."
Brian May, a senior in CAS, said students gain more knowledge from education that provides a variety of perspectives from a diverse faculty group.
"Having a diverse faculty is important so that when students are learning in the classroom, it's not like we are learning from one different walk of life," May said. "We are not learning from one person's view. It is important to view the world from different viewpoints to encourage liberal arts [development]."
Defne Karabucak, a freshman in College of Communication, said having to learn from professors and other faculty members with diverse backgrounds can be inspirational for students.
"Everyone has their own story, everyone comes from different places," Karabucak said. "If you only have a faculty full of white men from Connecticut, students are not really going to get much out of it. In order for students to be learning, they need different inspirations."