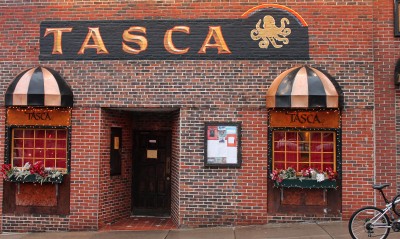 While many students either frequent the dining halls or cook up delectable dishes at home for their meals, most would agree that it doesn't hurt to go out for a nice meal every once in a while. Now, there's one less reason to feel guilty when doing so, thanks to GroupRaise.
GroupRaise is an online startup that helps restaurants connect with local college and non-profit organizations to organize in-house fundraisers. Restaurants then donate anywhere from 15 to 55 percent of the sales to a charitable cause, according to one of its co-founders.
The company's mission is to help restaurants make connections with local organizations and students through great food and service, Sean Park, GroupRaise co-founder and head of marketing, wrote in an email.
"We've found that restaurants get an average of 55 customers by hosting these fundraisers, so it is a huge win in sales," Park wrote. "College student leaders [for example] also love our site, because it is so simple and solves a critical problem in running their organization."
Kevin Valdez, co-founder and head of business development at GroupRaise, said the company is just as focused on creating a beneficial program for the restaurants as it is for the students or organizations.
"We want the restaurants we work to have just as much of a positive experience as the customers fundraising," Valdez said. "The few opportunities that they pay us is when we bring them more customers or when an event is fully booked. They have a policy that if they're not happy with the turn-out, then we offer a 100 percent guaranteed refund."
The charitable organization, founded in 2011, recently began working with 12 eateries in the Greater Boston area to help raise funds for a range of causes like hunger, clean water and education. Participating restaurants, including Vintage Restaurant and Lounge, Tres Gatos and The Trophy Room, have said they will donate 15 to 25 percent of the fundraising revenue for each organized event.
To sign up, whether you're an individual, group or restaurant, it's a three-step process on the GroupRaise site.
"As a restaurant, you list your program online and get all fundraiser requests to your email and log onto GroupRaise to respond to the requests," said Park. "Within a few clicks, restaurants are able to host groups of 20 to 200 customers during their slow days. As an individual, you simply choose a city, restaurant and date, make a fundraiser request, and then you can invite all of your friends and family to RSVP as well."
Establishments are offered prices based on the number of locations and events they'd like to host. For a restaurant with one to five locations looking to participate for the first time, they can opt for a $0 monthly payment fee and pay $39 per event instead. Other payment options include $99 per month for unlimited events at one to three locations, or $149 a month for unlimited events at four to five locations.
On the other end of the spectrum, individuals and organizations can fundraise through schools, churches, colleges, clubs or any other 501(c)3 non-profit organization — a status granted by the government in order to allow organizations to receive tax-deductible donations.
For Park, a meal is a powerful way to bring people together. Other students said they completely agree.
"I think [GroupRaise] is a smart concept because it focuses on what people love most — socializing and food," said Divya Joseph, a senior in Boston University's College of Communication. "GroupRaise is also a huge marketing tool for the restaurants in the community, so at the end of the day, everyone wins."
Alene Bouranova, also a senior in COM, said she participates in multiple extracurricular activities and sees the appeal of an initiative like GroupRaise.
"I would hope that the more GroupRaise grows in Boston, the more frequent the fundraisers will become among students and the community overall to make more of a difference," she said.
So what's in store for the startup?
"We are working on getting donations online after the event experience, so that those who came or those who couldn't make it can help the cause further by making a contribution," Park wrote. "We are also looking to grow in [over] 300 college towns, helping thousands of individuals fundraise for what they care about over the dinner table."