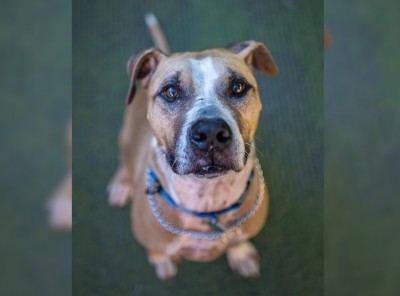 As warm and fuzzy as homecoming stories tend to be, this one is sure to tug on the heartstrings just a little bit harder. Moose is a Virgin Islands rescue dog who, after nearly five years of shelter life, has finally found his forever home in Boston.
Ryan Moore, the shelter manager at the St. John Animal Care Center, where Moose spent nearly 1,628 days, said Moose is a result of the stray dog abandonment issue that plagues the Caribbean.
The ACC is a no-kill shelter that has found families for around 400 dogs over the past five years, Moore said. The shelter runs off of donations and attracts lots of volunteers, who walk the dogs and help with the adoption process. One of those volunteers made a Facebook page called "Help Moose Find a Family – 4 1/2 years at a Shelter is too long."
"We're on a tiny island, so [Facebook is] a good outlet for us to get our story out," Moore said. "It sort of took on a life of its own. We started this one page to help Moose find a home, and it kind of went viral, I guess."
It was this Facebook page that connected the ACC with Last Hope K9 Rescue, a Boston-based, volunteer-run organization which works to, according to its website, systematically "place each of [its] dogs within a stable, loving environment."
"One of our 500-plus volunteers reached out to me and told me about the story from the Facebook page," said Alex Monahan, executive director of Last Hope. "I looked into it and reached out to Moose's team in St. John to express that if there's any way we can help, we'd love to. That was in August. From then on, we stayed in touch and formed a relationship there."
From that point on, Last Hope posted Moose's information on its own Facebook page and solicited applicants to consider adopting Moose. It posted pictures of Moose practicing with the trainer, writing to Santa that he wanted "a family for Christmas" and posing in a "selfie" on the car ride to the training facility.
"We relied on the constant communication we had with the St. John team to understand what his characteristics were, to make sure we would find the right family," Monahan said. "Our trainer up here in Boston was speaking to the St. John team to learn what [Moose's] needs are so we could find the right fit."
The rescue found the perfect fit in the Burke family, who posted a video of their three young daughters screaming with joy when they found out about Moose's placement decision.
The page was then constantly updated with pictures of Moose wearing Patriots gear, enjoying his last days in the sun and, eventually, exploring that new white stuff that blanketed Boston last week.
"Moose is a great example of types of dogs that a lot of people pass up on because they think since he's been in a shelter for five years, there must be something wrong with him," Monahan said. "But he's really such a sweet dog. When I met him for the first time, I was blown away and just amazed that he had been in a shelter for as long as he had."
Moore said that after his training sessions and three months of foster care, Moose came out fully house-trained, wasn't chewing on anything and was sleeping in the bed with the foster family. It was after Moose's stretch with the trial family that the ACC staff knew he was ready to be placed in the United States.
"We weren't too worried about it," Moore said. "He becomes attached really quick. He's essentially a 70-pound lap dog."