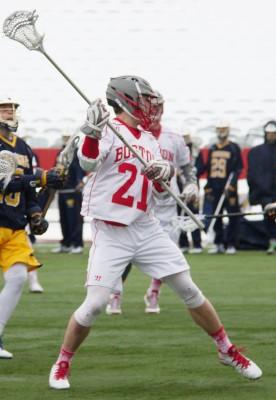 After nearly nine months of waiting and three preseason scrimmages, the Boston University men's lacrosse team will once again have the chance to stake its NCAA claim.
In what marks their third year as a program, the Terriers will welcome Providence College to Nickerson Field Saturday, marking the start of a charge towards the Patriot League Tournament. Head coach Ryan Polley admitted that his team is "definitely excited" and dealing with some "nervous energy," but BU hopes to start 2016 on the right foot.
"It's just about being focused because it doesn't matter who that first opponent is," junior goalkeeper Christian Carson-Banister said. "It's just playing your game and not worrying about who your opponent is. That team could be anybody and it's someone you want to get a W against, especially to start off your season."
Those feelings resonated throughout the rest of the team, as junior faceoff specialist Sam Talkow expressed that BU is excited to improve upon its 6-8 record from a year ago.
"It doesn't matter if it's Providence or anyone else, because it's our first game and a chance to go make a statement for how we're going to play all season long," the Preseason All-Patriot League Team honoree said. "That has to do with our hustle, our effort and how we're all itching to get on the field. We've had a couple good scrimmages, but it doesn't matter. You're still 0-0 and it'll be our first big test."
No longer labeled as "the young guns," BU has experience and promising talent at its disposal this year. Junior midfielder Cal Dearth returns as the team's leading point scorer, Carson-Banister was named an Inside Lacrosse Preseason All-American, and every starter from 2015 will once again don the scarlet and white.
Polley also highlighted a group of freshman who should step in right away, including attacks Grant Gregory and Michael Laviano and defensemen Quintin Germain and Christopher Lappin, among others. Through that blend, BU's third-year coach is looking forward to how internal and external expectations will dictate the season's direction.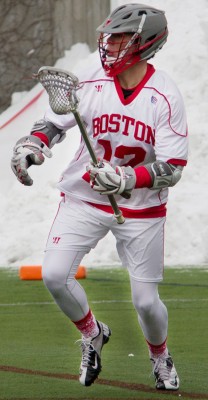 "It's the start of a journey," Polley said. "You work so hard in the summer, then you get to preseason and then you've got the time over winter session and then it finally gets here. Just the anticipation of this coming, and it'll be the day that the journey starts. We try and put our season together and what it is for the history books."
While neither team has played a competitive game yet, junior midfielder and captain Ryan Johnston pointed out that BU will try and reverse its fortunes with the Friars. Providence secured a 10-7 win against the Terriers in 2014, and escaped with a 7-4 win last year.
"We're a little bit bitter from the last two years," Johnston said. "We're excited to play them again and we're working hard. We've been beating up on each other and came back Jan. 5 or 6, doing two-a-days and grinding away. It'll be nice to finally put it all together on the field for real and take it to someone else."
Objecting to that charge would likely be senior Will Mazzone and defenseman Jarrod Neumann. The former returns as Providence's leading scorer with 24 goals and 11 assists, while the latter was named to the Preseason All-BIG EAST Team.
Providence was also picked to finished fifth in the BIG EAST Preseason poll, and will look to build off its 5-9 record from a year ago. Polley added that Providence is well coached and always has good goalkeeping, both of which should make for a tightly contested encounter.
"The early season games aren't always the cleanest, and you sort of just have to grind through it and make plays when the game is on the line," Polley said. "I think it very well could be coming down to the fourth quarter … and we need to not play tentative and a little bit tight like we did last year."
Whatever the outcome is, BU knows what's at stake and Providence first stands in its way.
"Our preseason is over now," junior midfielder and captain Patrick Donnelly said. "It's the first game week, so obviously a ton of excitement, but we still just have to go one game at a time. It's the first week and you can't look backwards or ahead."