AMHERST — In its previous three meetings against the University of Massachusetts Amherst, the No. 9 Boston University men's hockey team scored seven, nine and eight goals. BU didn't quite exactly reach that level on Friday evening at the Mullins Center.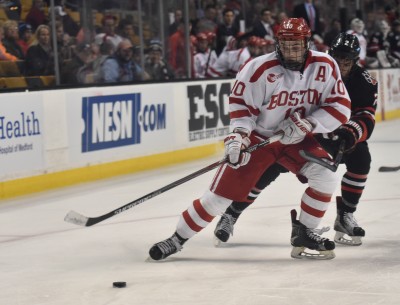 Regardless, less than five minutes into its game against UMass (7-17-4, 2-12-4 Hockey East), BU already had three goals, and the Terriers (16-7-4, 9-4-3 Hockey East) had already chased the starting goalie. From there, things didn't get too much easier for the Minutemen.
The quick start, guided in part by freshman forward Jordan Greenway (two goals) and sophomore forward Chase Phelps and senior assistant captain Danny O'Regan (one goal, one assist each), the Terriers came away with a 6-3 win.
"I love the way we started," Quinn said. "Came out with a lot of energy, were opportunistic, possessed the puck a lot … I liked our focus. I thought we were ready from the drop of the puck."
Greenway got on the board with a rebound goal just 57 seconds into the game. Not even two minutes later, Phelps added his third goal of the year with a wraparound.
UMass goaltender Henry Dill didn't even last the first three minutes of the contest, being replaced 2:43 into the game replaced by freshman Nic Renyard after Phelps's goal. Just a short time later, senior center Mike Moran added a goal at 4:49 to give BU a 3-0 lead.
Forward Ray Pigozzi earned back a goal for the Minutemen at 7:04 of the first with a tap-in at the doorstep, which the officials confirmed after a long review, despite a whistle as Pigozzi shot the puck.
But freshman forward Oskar Andrén added his first career goal with 43 seconds left in the first period to give BU a 4-1 lead headed into the first intermission.
O'Regan made it 5-1 at the 12:30 mark of the second period when he tipped in a shot from freshman forward Jakob Forsbacka Karlsson off Renyard, during BU's first power play of the game.
UMass got two goals back early in the third period, with forwards Dominic Trento and Joseph Widmar each scoring a goal less than a minute apart, cutting the Minutemen's deficit to 5-3 with 12:57 remaining in regulation.
"I thought we tailed off a little bit as the game went on, lost a little bit of focus, but attribute some of that to the way UMass played," Quinn said. "They never quit, tough when you're down 3-0 then 4-1 after one, but they kept coming at us … not an easy place to play. I know they've been struggling, they got a lot of guys back and they never quit."
Greenway got his second goal of the night when he snagged the puck off a UMass turnover and pushed it in as he fell over to make the score 6-3.
"We let them hang around, but Jordan gets a big goal to make it 6-3 to kind of give us a little bit of breathing room," Quinn said.
"We just got the puck in deep and I was just the first forechecker in," Greenway said. "Kept getting the puck on my stick there, reaching for it and eventually just got to the front of the net and I was able to tap it in."
The Terriers extended their longest winning streak of the year, which now stands at five games, and tied their longest unbeaten span at six contests. BU will look to extend that streak in the Beanpot final against No. 4 Boston College on Monday.
"I thought we kind of let the score and situation maybe at times dictate our commitment and our honest effort," Quinn said. "But I thought we responded when we needed to so again, a good, hard-fought two points for us and now we're getting ready for Monday night."