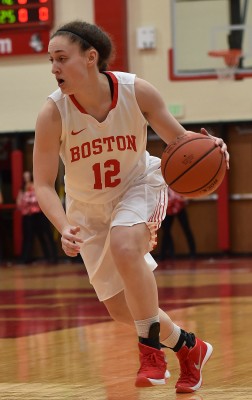 Following a late game tying layup by senior Peri Curtis of the United States Naval Academy, Boston University head coach Katy Steding called a timeout with 0.6 seconds remaining in the fourth quarter to prepare the BU women's basketball team for one last shot at a win before overtime.
With graduate student guard Troi Melton set to inbound the ball, it seemed as though the designed play was to get an open 3-point shot for junior guard Sarah Hope. Instead, Hope ran around a screen and made a backdoor cut. Melton hit Hope perfectly in stride with a lob pass and the Medway native caught the ball in mid-air and laid it in as time expired to win it for the Terriers (2-19, 2-8 Patriot League).
"We had been working on that particular set for another type of shot," Steding said. "It's been scouted, so people know how to play against it. [Assistant] coach [Cindy] Blodgett called an adjustment, and my hat's off to her because it was a great adjustment. It was well timed and well executed."
The crowd went wild as BU capped off a remarkable fourth quarter comeback to earn its second win of the season, defeating Navy (10-11, 4-6 Patriot League) by a final score of 51-49.
Hope's buzzer beater was the final tally of a hectic fourth quarter in which the Terriers began trailing by 10 points. In the final period, BU outscored the Midshipmen 19-7.
Entering the fourth quarter down 42-32, it seemed as though the Terriers were beginning to lose control of the game after the Midshipmen sank three 3-pointers in the final minutes of the third quarter. Unlike previous games, the Terriers' morale did not dip. In fact, they came out in the fourth quarter with more energy than they had shown in the entire game.
For a BU squad that tends to lose focus once it gets down by double-digits, tonight was an exception, as the team never once looked defeated and was able to rally around one another.
"Going into the fourth, because we experienced that lull [at the end of the 3rd period], we kind of got into them a little bit and they responded," Steding said. "I'd love to be able to pinpoint [what was different about this game]. But I would say that we've just been working with them on end-of-game situations and trying to keep them focused. We put them in those situations in practice so when they face them in the game, it's not scary."
WBB: Check out Hope's final play to win the game! Do we have another #SCtop10 play of the week??? #ProudToBU pic.twitter.com/Tibt9TdP81

— BU Game Day (@BUGameDay) February 5, 2016
Powered by two Hope 3-pointers, BU went on a 13-0 run, capped off by back-to-back layups by Melton and junior forward Meghan Green to take a 47-44 lead. But just as they did all game, the Midshipmen answered with a dagger from behind the arc.
Junior Danielle Poblarp sank the deepest of her three 3-pointers of the game to make it 47-47. Overall, Navy hit 10 shots from downtown on the night, including several right in the face of BU defenders.
After both sides exchanged missed opportunities, the Terriers caught a major break. With 22 seconds left, Peri looked to inbound the ball under the BU basket. However, there was a miscommunication between the Midshipmen, and somehow Peri wound up passing the ball right to BU freshman guard Peyton Hauck, who then made the go-ahead shot.
On the ensuing possession, it looked as though BU would hold on for victory, but Navy was got a clutch offensive rebound and Curtis tied the game at 49 with four seconds left.
Then, Hope sent Case Gym into frenzy with her buzzer-beating backdoor layup, and the Terriers notched their second win of the season in dramatic fashion.
"She brings so much more than just her 3-point shot," Steding said. "She brings leadership and tenacity, and her teammates love her."
After the game, Steding went over to the BU band and thanked them for their unwavering support.
"They've been so loyal," Steding said. "I just wanted to acknowledge that they've been there for us through thick and thin, and they've believed in us the whole time. Hopefully we keep this going on a roll and try to get back-to-back wins."