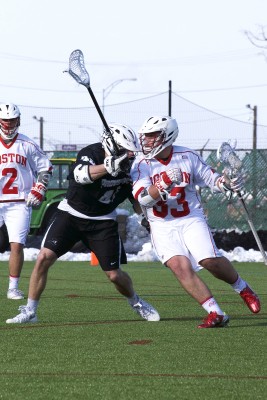 Last year's iteration of the Boston University men's lacrosse team threatened opposing goalkeepers via a small handful of players, and it already appears as though a different tale will unfold in 2016.
Seven different Terriers (1-0) fired past Providence's (0-1) Tate Boyce in Saturday's 9-5 win, demonstrating the scarlet and white's tendency to spread the wealth around. Freshman attack James Burr and sophomore attack Jack Wilson led the charge with three points apiece, and 15 BU players fired toward goal.
"It just adds a whole new element to our offense, where we can get different plays," Burr said. "Just to have two midfield lines and all of our attacks, we can pass and feed. It adds a whole new dimension to our offense, which is awesome."
Burr was alluding to the Terriers' penchant in 2015 to rely on the likes of sophomore attack Ryan Hilburn, junior attack Adam Schaal, junior midfielder Cal Dearth and Wilson. The quartet accounted for 157 of BU's 243 points, but a selfless approach unfolded against Providence, as nine different players recorded a point.
"If one guy has six goals or one guy has one and we string a bunch together, we just preach being unselfish and getting to the open guy," BU head coach Ryan Polley said. "It's getting the ball to that back side where we can attack on teams in motion."
Wilson took note of how the scoring burden isn't as concentrated in 2016. In turn, that means a tough day for Dearth, or another Terrier isn't going to ruin BU's fortunes.
"It definitely takes a little bit of the load off, and it's great having depth," Wilson said. "I think everyone has really noticed that, and we've been talking about that. If one guy is having an off-game or their stick isn't dialed in, we have guys who are going to come in, step up and play."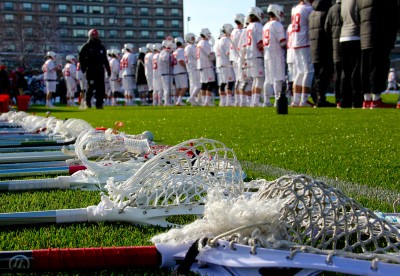 With more options in attack, as well as across the board, Polley said he was pleased with the contributions of his freshman class. Midfielder Brendan Homire assisted on BU's eight goal, and long stick midfielder Drew Lukacs tallied BU's ninth and final strike.
The star of the new class was undoubtedly Burr, though, as he rose to the occasion in front of friends and family.
"[Burr] has been working really, really hard this offseason," Wilson said. "All fall he was putting in the work, and coming into the spring, he's been doing a good job. I'm proud of James, and we're just going to keep growing together."
Often overlooked as a source of offense, BU also dominated the faceoff circle against the Friars. Junior faceoff specialist Sam Talkow won 16 of his 18 draws, often igniting a surge of momentum or stunting Providence's comeback charge.
The Preseason All-Patriot League Team honoree and Inside Lacrosse Preseason All-American also scored BU's fifth goal of the afternoon when he charged right down the field, taking matters into his own hands.
Here's @samtalk31 at work. One goal for the @BUMensLacrosse faceoff specialist against @PCFriarsLax today pic.twitter.com/YnMR42d7A3

— DFP Sports (@DFPsports) February 6, 2016
Mindful that his team still has room for growth, Polley said he was nonetheless happy with how his team circulated possession, probing for the cleanest shot on target. Moreover, this year's Terriers played maturely against Providence, a sign that bodes well for a team that wants to win the Patriot League Tournament come April and May.
"I was just pleased with our experience," Polley said. "We've been so young and everyone has talked about that, and it was a game where our experience showed."