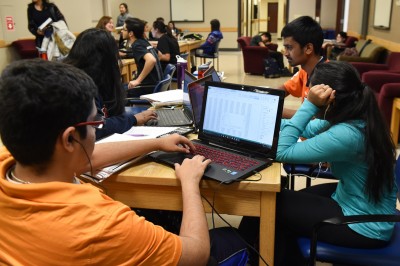 Higher education is "data rich, but information poor" and should obtain and share more information that allows students to understand a college education's worth and better guide students to success, according to a report released Wednesday by the Bill and Melinda Gates Foundation.
The report, "Answering the Call," proposes a "metric framework" that measures institutional performance through data on student access to university resources, progression throughout their time enrolled, students' rate of completion, cost and employment rates for students with certain degrees.
"The problem is that prospective students, policymakers, and the public do not have answers to commonsense questions about whether and which colleges and programs offer a quality education at an affordable price," report author Jennifer Engle wrote.
A new method of approaching data like the report suggests will benefit university students in the modern day, GF spokesperson Travis Reindl said.
"The government tracks the data of students who are going to college for full-time, but that's only part of the population," Reindl said. "It's really important to know not what happens to just one big group, but to different subgroups. We have to be able to separate one group of students from another to see how they're affected."
According to a November 2014 report from the Complete College America, a nonprofit that works to increase the number of citizens with valuable degrees, only about 34 percent of students pursuing a four-year degree graduate on time.
A number of schools in the nation use programs and platforms such as "Degree Compass," which recommends courses for individual students based on how other students of the same profile did, Reindl added.
"Degree Compass is a dashboard that uses data and predictive analytics in a way that's similar to Amazon," Reindl said. "It has your information and how you've performed so far and can recommend classes based on students like you, your program and your likelihood of success."
Data represented through the suggested framework would be representative of many different groups of students and would serve to help students choose which programs to enroll in and how to get the most out of their college tuition, according to the report.
"The metrics published today often only include 'traditional' students and ignore the new normal in higher education," report stated. " … The data systems … must adjust to and reflect the experiences and outcomes of all students."
Non-traditional students, the report explained, are those with low-income, first-generation, adult, transfer and part-time students.
The framework provided in "Answering the Call" focuses on ways universities and colleges can identify students who are at risk of dropping out or not completing their degree program on time, Reindl said.
"Georgia State University in Atlanta looked at how many students were making it from year one to two and tried to find a pattern among the ones who didn't," Reindl said. "They realized that they did have a retention problem within a certain group and focused advising work on particular students like them."
Several Boston University students said sharing more information and having programs like Degree Compass could be helpful on campus.
Tennyson Cooper, a freshman in the College of Arts and Sciences, said similar programs could be useful in guiding students, as long as the information is carefully selected.
"I suppose it could be helpful, but it would depend on what information the advisors are getting," Cooper said. "If they got to see what a student was good at and what other students like them were able to do, then it's definitely worth trying out."
Zachary Edelstein, a sophomore in the Sargent College of Health and Rehabilitation Sciences, said programs and frameworks, however, couldn't determine and predict a student's success, as it depends on the individual student.
"A program like [Degree Compass] is a good way to help students find their way, but it does come down to the individual and what they do," Edelstein said.
Ashray Mohan, a freshman in the College of Engineering, said a program like Degree Compass and more information would be helpful, especially for underclassmen.
"If I wanted to take a course that I don't really know anything about except for that description from Student Link," Mohan said, "being able to see that data on that platform would really help out."