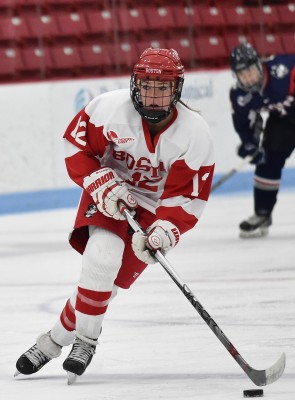 As hosts of the Beanpot Tournament, the Boston University women's hockey team came into last week with the chance to vie for a title on its own campus.
After faltering Feb. 2 to No. 6 Northeastern University, the Terriers' (17-10-2, 14-4-2 Hockey East) Beanpot woes continued. Consequently, head coach Brian Durocher's team will now take on Harvard University Tuesday afternoon in the consolation game at Walter Brown Arena.
There will still be pride on the line, but Durocher was quick to point out that the contest will lack the allure of a championship tilt.
"Well, without a doubt, there's not the same excitement," Durocher said. "You're talking about athletes who love to compete, and that'll be the ultimate thing. Playing Harvard is a little bit of city bragging rights and making sure you compete [and get] another win on the record. For us, I think coming through with two good games in a row against good teams is important."
The coveted title match will take place between No. 1 Boston College and Northeastern (25-4-1, 19-2 Hockey East) Tuesday night, but Durocher insisted his team won't linger on its missed opportunity.
"I think we'll come out and try to play loose and try to play hard," Durocher said. "Every year is a new year, and what's happened in the past, including last week, is obviously frustrating, but we'll look at the positives."
The Terriers have struggled in Beanpot Tournaments of years past. BU has claimed only one championship in the past, which was in 1981 and occurred when the Terriers weren't yet an NCAA team.
Northeastern and Harvard (13-9-2), on the other hand, have consistently dominated the tournament with 16 and 14 titles, respectively. This makes Tuesday night all the more challenging for the Terriers.
The consolation game will be the first time the two teams meet this season, as the last time they faced each other was in 2015's Beanpot semifinal game, in which Harvard bested BU 9-2. However, on Nov. 21, 2014, the Terriers and the Crimson skated to a 1-1 tie.
"We won't change stuff too much," Durocher said. "We'll kind of play the same way. The biggest thing for us is to be hard on ourselves and make sure that we're generating our own enthusiasm. When it comes time to go out and get a goal and score, let your ability take over."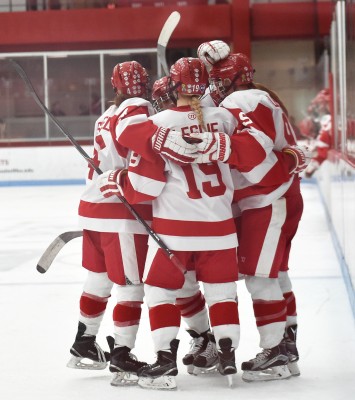 Harvard has played twice since last week's loss in the semifinals against BC (29-0, 20-0 Hockey East). Friday night against Brown University, the Crimson tied the game 3-3 in overtime, and they won 4-1 Saturday night against Yale University.
Senior Miye D'Oench leads the team with 11 goals and 27 points this season. Junior Sydney Daniels follows in points with 18.
Meanwhile, goaltender Emerance Maschmeyer is one of the best in college hockey. She owns 1.78 goals against average, a 94.4 save percentage and has extensive experience with various Canadian national teams.
The Terriers, on the other hand, have not had the added stress of games in between the Beanpot Tournament, and have had ample time to plan an approach to Tuesday's game.
"They're resilient, and they're young kids," Durocher said. "They feel good about what's going on in the game, and they've played three games in five nights. We've got to make sure we get off to a fast start and put some pressure on them."