[mediagrid cat="27559″]
It took less than two minutes of overtime during Monday's Beanpot Tournament final for the game to be over, just like last year. Only this time, the No. 7 Boston University men's hockey team wasn't the beneficiary of the quick golden goal.
No. 3 Boston College was.
In the first Beanpot final to end in a 1-0 score, the Terriers (16-8-4, 9-4-3 Hockey East) bounced back from a disastrous first period to skate a cumulative 60 scoreless minutes with the Eagles (20-4-4, 11-1-4 Hockey East).
Then came OT.
With 1:57 gone into the extra period, winger Alex Tuch utilized a screen created by a few Terriers in front of senior netminder Sean Maguire and wristed a cross-body shot at the cage from the high slot. Maguire said he didn't see enough of it to make the save, and the puck found the back of the net.
BU kept BC off the scoreboard in the opening frame despite being outshot 23 to 12, as Maguire recorded more than half of his 41 total saves through the first 20 minutes.
Maguire ended up winning the Eberly Award for goaltender with the best save percentage in the tournament with 65 saves on 67 shots for a .970 mark. He also claimed Tournament MVP.
"After the first period, it certainly didn't look like it was going to be an exciting game," head coach David Quinn said. "But I'm proud of our guys and the way we rebounded after a dismal first period."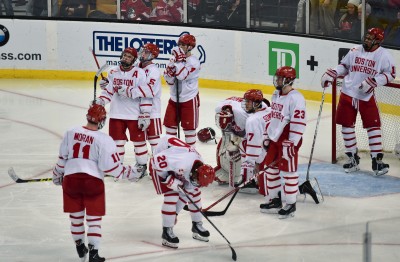 The Eagles had 32 total shot attempts in the opening frame alone, and of those 32, two-thirds of them came around the slot and low slot — prime space for scoring. The BU defense was unable to keep BC out of the middle and allowed chance after chance on the doorstep.
A little over halfway through the first period, with 11:07 expired, the lights along the ceiling started to go out. From BC's net to BU's, TD Garden was dimmed and play stopped immediately. Players from both teams tried to keep themselves loose by skating around the ice.
BC head coach Jerry York said he and Quinn were asked by the officials if they'd like to have the ice resurfaced and then play a 29-minute second period, to which they both said no. Instead, the Terriers and the Eagles retreated down their respective tunnels to spend some time in the locker room.
It was time spent, Quinn said, going over what needed to be fixed heading into the remaining periods.
"It was like an intermission," he said of the nearly half-hour delay. "I think we all kind of reverted back to that, what we would normally do, and we talked about a few other things we needed to do better … There was a laundry list of them, and guys stayed active and just did what they normally do in between periods."
The second period was an improvement. The Terriers kept their opponents to the outside of the zone, giving up just one chance anywhere close to Maguire when winger Ryan Fitzgerald tried a wraparound attempt on the right post. The third stanza didn't yield as bare a middle, as BU held BC to just five attempts in that area.
The difference, naturally, had a lot to do with defensive play in the Terriers' own zone.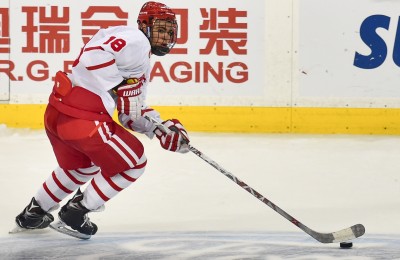 "We just did a lot of standing around," Quinn said of the first period. "We didn't manage the puck very well, and once we got into our own end, we just stood and there was not a lot of guys making quick decisions."
He added that the team was indecisive, and when that happens, it's hard for all five guys to have a clear understanding of what their responsibilities are because there are "five guys on the other team buzzing around."
"I thought in the second and third period, we did a much better job of being decisive and just making a decision and doing it with conviction," Quinn said. "And that made everybody else's job easier, and that's why you saw the dramatic drop in shots and scoring chances and made it a hockey game."
Things were more even in the second and third periods. The Terriers outshot the Eagles 17-15 in those 40 minutes and out-attempted them 41-32. There were scoring chances at both ends, and both Maguire and Eagle goalie Thatcher Demko came up big for their teams. Demko finished with a 30-save shutout, his nation-leading and program single-season, record-breaking ninth of the season.
"That's what people expect when they see BU and BC play — up-and-down action," Quinn said. "Both teams had great chances in the second and the third. Unfortunately, it just takes one play to win it. And they made the play when they had to."