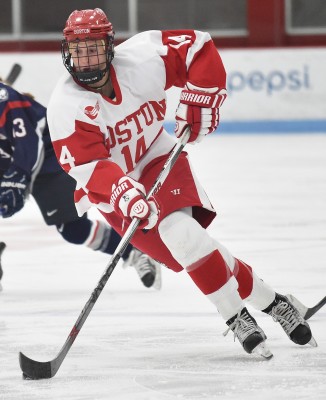 Before the Beanpot Tournament's consolation game, BU head coach Brian Durocher stressed the necessity of a fast start in order to defeat a very capable Harvard University squad.
The Terriers (17-11-2, 14-4-2 Hockey East) did exactly that, tallying three first-period goals in a 5-3 loss to Harvard (14-9-2, 10-6-2 Ivy League) Tuesday night. Junior center Maddie Elia struck for two goals and an assist, but her efforts were not enough to keep the Crimson at bay.
"You always want to start quick, and I thought that that could be a real momentum swing for us and a demoralizing thing for Harvard because again, they had to be a little bit tired," Durocher said.
Fast start aside, BU was unable to reverse its meeting in last year's Beanpot semifinals, in which Harvard emerged with a 9-2 victory. The Crimson have had great success against BU in the Beanpot, and they continued to be a thorn in the Terriers' side.
While three different Harvard players combined for Harvard's five goals, BU relied on the hot stick of Elia.
The first of Elia's goals came just over a minute into the contest. She forced a turnover on the forecheck and stickhandled her way past multiple Crimson defenders to give the Terriers a 1-0 lead.
Elia struck again at the 4:12 mark in the first period, this time beating Harvard goaltender Emerance Maschmeyer at the crease for her 13th goal of the season. This put her in a three-way tie for second most goals scored with senior forward Rebecca Russo and freshman forward Sammy Davis, who tallied the Terriers' third goal of the night.
"Maddie made a marvelous shot on the first one and then really used her size, her reach and her hands to kind of freeze a great goaltender and be able to tuck it in on the far side," Durocher said. "The resiliency and ability to find the back of the net for Harvard got them a win, but Maddie's contributions were duly noted and she played a really good game."
After her two-goal effort against the Crimson, Elia has now taken the fifth-most shots on the team, but has also logged the most penalty minutes. With her second period penalty for interference, Elia has now registered 22 penalties and been in the penalty box for 47 minutes this season.
Durocher dispelled the notion that Elia's penalty was detrimental to the team, aside from the fact that it took one of its top offensive weapons off the ice. Although Tuesday's matchup was a physical one, with eight total penalties, he also stressed that the referees made the right calls.
"I don't think it was a game where the referees were calling all kinds of crazy stuff," Durocher said. "They work hard. It's not a job that everybody's signing up for, and we're highly appreciative of what they do and the conviction they have for the game. Maddie's penalty is one of those ones that could've been incidental contact but that didn't determine the game. The referees did a good job, the kids played hard and we have a way of letting those things go so that the kids can compete."
And compete they did. Despite the loss, the Terriers' toughness and will to win cannot be questioned, as they mustered 27 shots and three goals against one of the most formidable defenses in the country. Coming into Tuesday's game, Harvard had held 20 of its first 24 opponents to two goals or fewer.
While Elia shined on the stat sheet tonight, she was quick to deflect all the attention to her teammates.
"Russo, [sophomore forward] Rebecca Leslie and I are always working hard down low, and I think it paid off tonight," Elia said. "We were just trying to shoot the puck and get it off quick, and they did a great job of finding me."