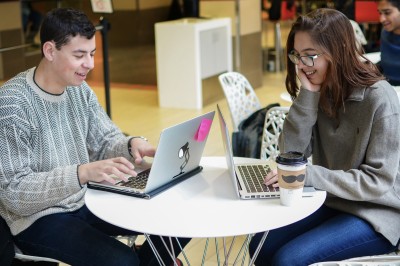 With the social acknowledgment of popular dating apps such as Tinder and Bumble, online dating has quickly gained traction in recent years. But when human interaction moves online, according to a recent study, behavior might be lost in translation.
"One-Way Mirrors in Online Dating: A Randomized Field Experiment," a Feb. 2 study published in the Management Science journal, was conducted by McGill University, University of Minnesota and National Tsing Hua University researchers. The study found that men tend to be bolder than women in online dating. This study only looked at heterosexual relationships.
"The goal is to find out … the difference in gender. Women don't initiate matches as much as men do. Men send four times the number of messages as women do," said Jui Ramaprasad, a professor of information systems at McGill University.
Working with an online dating company, the researchers collected data from 100,000 users, focusing on the anonymity feature of the online dating company, which enables users to view profiles without notifying the people they viewed. The researchers gave some users the ability to view profiles anonymously, while other users viewed profiles non-anonymously.
The purpose of segmenting users by the anonymity feature was to mimic in-person interaction, Ramaprasad said. Viewing a profile online non-anonymously is the offline equivalent of subtle flirting to indicate interest.
"Let's say you go to a bar to look at people," Ramaprasad said. "They're going to know you're checking them out."
In the online world, the users who used the anonymity feature viewed more profiles, but also had less matches.
"What we were able to do, because we had granular data of who people viewed and then who they messaged with different time stamps, we could see using that data that what's happens is that women are viewing profiles," Ramaprasad said. "[When] people look at more people, more profiles, it decreases the matches people receive. That happens primarily for women. The guy does not know the women left a weak signal. The weak signal decreases the number of matches women get."
The difference between women's and men's behavior in online dating reflects primal instincts, said Akhmed Umyarov, a professor of information and decision sciences at the University of Minnesota.
"Online dating is a scenario ruled by our primal instinctive behavior where men and women play the roles that are so far from each other that often comparing men to women is useless," he said. "Say a median active male receives one message a month. A median active female receives 30 messages a month."
Additionally, Umyarov said that anonymity only impacts incoming communications initiated toward a user, but not outgoing communication. This implies that women are affected the most, since men tend to have less incoming communication. Despite losing incoming communication, Umyarov said that women do not try to compensate by initiating more conservations themselves.
"Online dating is app-based now," Ramaprasad said. "I hope women feel empowered and are with people they are happy to be with. I see apps now that are trying to empower women. I hope that online dating fulfills matches for both men and women."
As the online dating industry matures, companies seek to modify their features to better understand human psychology. One of the dating app companies seeking to better understand how people interact is Meet Me Outside, a Boston-based company founded by Rob Hand and Harry DiLeo.
Expected to launch around Valentine's Day, Meet Me Outside is a dating app for people who like the outdoors.
"We are working on building our user base and understand that best way people interact. That's our goal — to help people really meet in real life," Hand said. "We give you seven days to start that conversation, or else that match expires. For us, it's how people use the app, how people start … things that help people initiate that conversation faster."
Driven by data and improved with smarter technology, Hand said that he is confident in the future of online dating, though the industry still faces challenges.
"People tend to lie on their dating profiles, whether it's their height or interests," Hand said. "How do you make it feel natural? How do you make it a fun and enjoyable process and then meet somebody who matches the interests they have? That's a challenge, and a lot of companies including Meet Me Outside are on the way to figuring it out."
There are significant implications for the research, Ramaprasad said. The research can guide how online dating companies design their platforms.
"We should sort of think of how you can design a platform more conducive to women being more involved in the matching process," she said. "There's other matching markets online like LinkedIn. They have features like anonymous browsing. The impact could be different in the job market. The results of the weak signal are in the job market too."
A previous version of this story said men send four times the number of matches as women do rather than four times the number of messages. This correction is reflected in the story above.