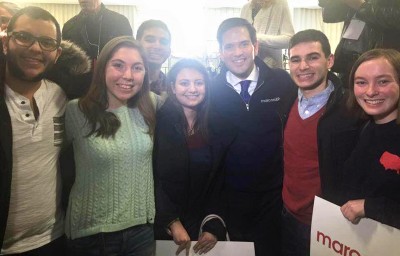 Boston University College Republicans, Boston University Students for Bernie Sanders and BU for Hillary are just some of the BU political student groups who have been in New Hampshire since Saturday in anticipation of Tuesday's 2016 New Hampshire primary.
The New Hampshire primary is the first preliminary election after the 2016 Iowa caucuses held Feb. 2. In Iowa, Texas Sen. Ted Cruz won the Republican delegates, while former Secretary of State Hillary Clinton narrowly beat out Vermont Sen. Bernie Sanders for the Democratic delegates.
According to polls, Donald Trump holds a steady 16.3-point lead for the Republican race in New Hampshire, while Sanders has a lead of approximately 13 points over Clinton.
BUCR has sent a number of students to New Hampshire to canvass and attend events in support of Republican candidates.
BUCR President Ava Mack, a junior in the College of Arts and Sciences, said the group is excited about the nearby New Hampshire primaries.
"We've tried to take advantage of New Hampshire's proximity as much as possible," she said.
BUCR, a group of approximately 40 members, has been active on campus since the late 1990s, Mack said. Several of the group's executive board members went to Manchester and Bedford, New Hampshire Sunday to canvass, where some members got to FaceTime and take photos with the presidential candidates.
Although the group has diverse views within the party, its members also share a general set of principles, Mack said.
"Qualities that are particularly important to all of our members are a dedication to limited government, fiscal responsibility, strong national security and defense," she said.
In addition to canvassing, the BUCR members often get together to debate important issues discussed in the election, share opportunities and watch primary results on campus.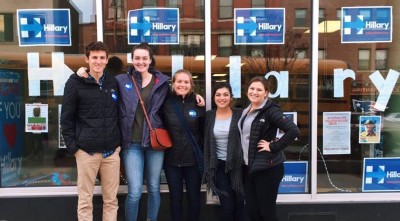 "Encouraging more active membership on campus and translating that membership into internships and job opportunities to support Republican candidates is our overall goal," Mack said.
A number of groups to support specific candidates have also formed even prior to the national convention, like Boston University Students for Bernie Sanders and BU for Hillary.
Founding President of Boston University Students for Bernie Sanders Cristian Morales, a senior in the
College of Engineering, said that in anticipation of the New Hampshire primaries, many of the group's members have been traveling to the University of New Hampshire and Dartmouth College to canvass for the Sanders campaign.
"What a lot of us enjoy about going up to New Hampshire is that we know the simple act of driving north for an hour and telling college students how to vote and that their vote matters is a way for us to make a real difference," Morales said. "It allows us to dispel the stereotype that our generation is self-absorbed."
Boston University Students for Bernie Sanders was formed in August 2015 and has held weekly meetings since.
Morales said many of the group's members support Sanders because of his stance on Wall Street reform, Super PACs, universal health care, LGBT support and his plans for affordable college education.
"Our members don't love Bernie for a single reason," Morales said, "but for the whole of what he stands for."
Morales said the goal of the group is to let students on campus understand that they can make a difference in the world by getting involved in the political process.
"If our group can walk away at the end of the day knowing we gave a handful of students the drive and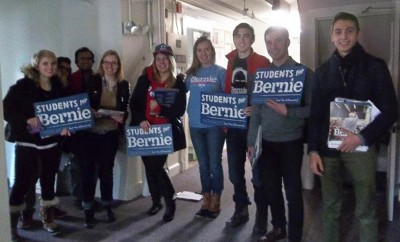 the skills to become activists who go out and change our society for the better, then we'll consider ourselves a success," Morales said.
BU for Hillary spokesperson Katarina Rusinas, a senior in the College of Communication, said approximately 25 group members were also among the students spending their weekend canvassing in New Hampshire.
"It's a great atmosphere," she said. "A lot of students actually got to see and take pictures with Hillary Clinton … We believe in what she's doing, we like her policy and we just think she's going to be the best president."
Rusinas said one of the group's goals is to foster a community of Clinton supporters on campus.
"A lot of campaigning is about community building," she said. "We want to keep doing that, giving a space for people with similar interests."
BU for Hillary initially started in July 2015, but it began to take off mid-October and now has around 50 active members. The group does semiweekly phone banks on campus and organizes groups to attend campaign events in Boston.
BU for Hillary had its initial gathering Oct. 12, 2015 with U.S. Rep. Xavier Becerra, chairman of the House Democratic Caucus, The Daily Free Press reported Oct. 14, 2015.
BU political science professor, Doug Kriner, said he is pleased to see these student groups aggressively mobilize.
"It's hard to complain about politics if you don't engage in it," he said. "Being in Boston and at BU opens so many opportunities with the election and the primary system that I hope a lot of students will get involved and get excited."