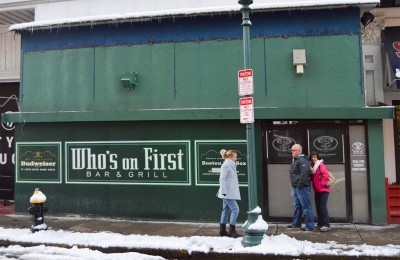 Red Sox officials announced at a community meeting Feb. 2 that the Who's On First bar will not reopen, according to District 8 Chief of Staff Dan Sibor.
This decision comes as a result of a shooting at the Fenway bar on Thanksgiving Day that left one dead and three injured. Jephthe Chery, a 29-year-old commuter rail conductor, was killed outside of the bar by gunfire meant for another party.
According to Sibor, Red Sox officials — not the City of Boston Licensing Board — urged the bar to close after Chery's death.
"The bar had a history of violence and warnings from the Licensing Board, but they never got their license pulled," Sibor said.
Even after the shooting, the Licensing Board did not revoke the license. Sibor said District 8 City Councilor Josh Zakim showed support this December for the closure of the bar when he wrote a letter to Licensing Board Chair Christine Pulgini.
"Councilor Zakim wrote a letter that urged for the license to be pulled, and he stands by that letter," Sibor said. "He respectfully disagrees with the decision of the Licensing Board."
In his letter, Zakim described the fatal shooting as a "tragic endgame of a decade-long pattern of mismanagement and blatantly disrespectful behavior towards the Fenway neighborhood, the City of Boston and this Board."
Zakim also wrote that Who's On First "has proven consistently incapable of adhering to minimal operating standards" and pointed out that "the Licensee operates its establishment in a residential neighborhood."
Sibor added that the bar was located in an important part of the Fenway neighborhood, emphasizing the need for pedestrian safety.
"Yawkey Way, in addition to being a Red Sox hub, is a really important connection between Brookline Avenue and Boylston Street that people use at all hours of the day," Sibor said. "It's important that they can walk along those streets and feel safe at any hour."
Sibor said residents were concerned for their safety, considering the fact that people had been injured outside of the bar on multiple occasions prior to the shooting.
"Hopefully this is a new chapter for Fenway, and now members of the community will be able to feel like their safety is being taken seriously," Sibor said.
Richard Giordano, the community organizing director for Fenway Community Development Corporation, expressed concern with the Licensing Board's original decision and satisfaction at the bar's closing.
"I certainly can't explain or justify their decision," Giordano said. "I think the Red Sox wound up accomplishing what the Licensing Board should have."
Giordano acknowledged the fact that the bar was being rented out to a third-party vendor when Chery was killed, but said this is no excuse for leniency from the Licensing Board.
"To allow a facility to continue operating when they obviously can't control what's going on is inexcusable, and the license should have been pulled," said Giordano.
Now that Who's On First has closed for good, Giordano said he expects that the community around Fenway will be a safer place for Boston residents to live and travel through.
"This bar was clearly a danger to the neighborhood and to the patrons," Giordano said. "Now, it'll be safer, it'll be quieter and it'll be a much better atmosphere."
Several Boston residents said they disagreed with the Licensing Board's decision to allow Who's On First to keep its license in light of the shooting.
Denis Kyabaggu, 35, of Allston, thought the Licensing Board should have revoked the bar's license without hesitation.
"I think if there have been previous incidents, the authorities of the bar should be blamed for not taking any steps to prevent violence," he said. "I think it was negligence of the highest order."
Kara Burns, 30, of Allston, said she couldn't understand how the Board decided not to revoke the license.
"I don't think the bar should have been allowed to stay open," she said. "If someone actually died right outside, I don't understand how there's any way around that.
Matthew Jones, 28, of Brighton, was also stunned by the Board's decision, but hopes the closing of Who's On First will have positive effects in the city.
"I hope that now that the bar has closed down, that'll result in a safer community around Fenway," he said.