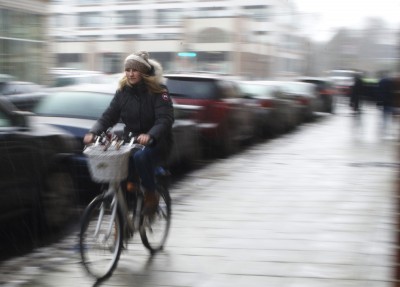 This summer, two Boston University students and an alumnus will partake in an adventure of a lifetime: biking across the country to provide affordable housing opportunities to those in need.
William Dean, Jade Cooper and Adriel Klein are all participating in Bike and Build, a Philadelphia-based nonprofit that, according to its website, "empowers young adults for a lifetime of service and civic engagement," through service-oriented cycling trips.
Justin Villere, senior director of operations and development at Bike and Build, is a 2009 alumnus of the program. He said the three most memorable parts of his trip from Providence, Rhode Island to Seattle, Washington were the people, the service and the adventure.
"You get to see parts of the country most people don't have a chance to see," Villere said. "And you do it 10 miles per hour from the seat of your bike, which is a really unique way to do it."
To prepare for the trips, which include around 15 building days, riders must volunteer with an affordable housing organization for at least 10 hours. They must also raise $4,500 and bike 500 miles, not including indoor cycling or spin classes.
Dean, a sophomore in the College of Arts and Sciences, has been biking around Boston to prepare for his May trip to the Southern United States.
"One of the reasons I chose this trip was because I've never been to the South," he said. "I'm really excited to stop in New Orleans. That's one of the big build sites. We'll be there for three or four days."
Cooper, a senior in CAS, first heard about Bike and Build after studying abroad in New Zealand.
"I love being immersed in nature," she said. "I'm so excited to do that this summer — every day, all day, being in nature on the road, having the scenery surrounding [me]."
In addition to cycling, Cooper has been taking Tai Chi and Pilates classes to prepare for her New Haven, Connecticut to Stockton, California trip. While she said no amount of training will prepare her for the physical and mental challenges of the journey, she is looking forward to gaining a better perspective on affordable housing in the United States.
"Housing is so expensive these days, it's ridiculous," she said.  "A lot of people pay way too much for housing, and it's not even good conditions, so I really like hearing their perspective and trying to immerse myself in that situation and [do] the best I can to help them."
Klein, a 2014 BU graduate, will bike from Providence to Stockton on his second trip with Bike and Build.
"What appealed to me about it was the community service aspect of it," he said. "You're doing something good, and the combination of the travel, seeing new places and the actual biking itself … is a pretty intense thing to do. It's incredibly healthy and you feel amazing every day."
Klein added that the build days provide a nice break from biking, since they use "different muscles."
Villere said the trips leave a lasting impact on riders, and that alumni continue to support the organization long after their cycling ends.
"The alumni are the lifeblood of Bike and Build," he said. "We rely on them for especially recruiting, getting out the word to their friends and people they go to school or work with."
Alyssa Russell, also a 2014 BU graduate, went on the Northern United States trip after graduating from college. Among her favorite memories are times spent cycling across North Dakota and Glacier National Park.
"We were biking in flat areas for weeks, and suddenly you see these beautiful mountains in the distance and you're in the middle of them and climbing them," she said. "It was just incredible."
Russell highly recommends that other college students go on Bike and Build trips.
"I think that in college, there's a lot of pressure to constantly think about your career," she said. "That is, in my opinion, close-minded. The benefit of personal experiences like [this] is so huge … The confidence you gain doing something like [this] is incredible."
Villere further emphasized the personal impact Bike and Build leaves on young people, even those who don't have much prior biking experience.
"Bike and Build is not a race," he said. "We try to emphasize that you don't have to be an avid cyclist. The people we're looking for are people who have a passion for service, adventure and want to make a difference. We believe they can learn to ride bikes — it's hard to find the opposite."