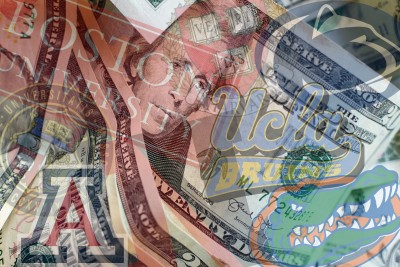 The Boston University administration does not expect change to its financial aid program despite the creation of the United States Department of Education's Student Aid Enforcement Unit to investigate fraud and abuse in higher education.
Laurie Pohl, vice president for Enrollment and Student Affairs at BU, wrote in an email that BU students should not worry about the creation of the Enforcement Unit.
"Our financial aid programs are in excellent standing with DOE, and I do not expect that to change," Pohl wrote.
Acting Secretary of Education John King Jr. announced the creation of the unit during a press conference Monday. President Barack Obama has requested that $13.6 million be allocated to increase and strengthen enforcement activities within the 2017 budget, according to a Monday DOE release.
The Enforcement Unit, led by Robert Kaye, chief litigation counsel in the Bureau of Consumer Protection at the Federal Trade Commission, will work with federal and state agencies to investigate and act on fraud accusations by higher education institutions to protect students and taxpayers, Kaye said.
During the press conference, King said this unit was created to allow the government to respond more efficiently to accusations of illegal actions within higher education, mainly in the for-profit sector.
"[Students] have a right to expect they'll actually get an education that leads to a better life," he said during the conference. "When that doesn't happen, we all pay the price. So let me be clear, schools looking to cheat students and taxpayers will be held accountable."
The Enforcement Unit will be a crucial actor as more people are going to college due to an increased need for degrees from employers, King said.
"The face of America's student body is changing," he said. "These changes are good. Good for students and good for the country, but they also create new challenges."
As the demand for higher education and the number of institutions that provide career training go up, the quality of education varies, King said.
"Some of these programs do a good job preparing students for success and graduating with a meaningful degree or credential," he said. "But we've also seen too many programs that promise students a better life only to leave them with piles of debt and without the prospect to pay it off."
Given the circumstances, Kaye said the main goal of his office is to promote fairness and integrity of the financial aid process.
"It is simply imperative that students taking on substantial financial obligations to further their education, to further their lives and not to be subject to unlawful enrollment tactics," Kaye said.
Ted Mitchell, the under secretary of DOE, also spoke at the press conference. Protecting students from illegal actions of some higher education institutions can improve the national economy and social mobility, especially for low-income and first-generation minorities, Mitchell said.
"Higher education is and must continue to be the engine of social mobility," Mitchell said. "We must make certain at every turn that students and families evaluate their options they're looking at."
Several students said higher education institutions should be fair and lawful with financial aid, especially when institutions see an influx of first-generation college students.
Christian Evora, a freshman in the College of Arts and Sciences, said he hopes this unit will protect students from fraud.
"College is an establishment we rely on and put our faith in," Evora said. "No one should be swindled or cheated [by colleges]."
Olivia Gehrke, a freshman in CAS, said although the unit would be a good idea, she has doubts about its effectiveness.
"It's a good idea in theory," Gehrke said. "[But] it would be a difficult thing to pull off and uncover everything illegal from every university."
Allyson Fernandez Knott, a sophomore in the Sargent College of Health and Rehabilitation Sciences, said it is important for universities to avoid fraud to make sure students' money is spent properly.
"I want to be sure the money my parents have spent to provide me a quality education isn't being misused in a way that isn't fair," Knott said. "I also want to be sure that when I graduate and begin to start paying off my college debt, I won't carry an even bigger, unnecessary burden because the college I went to committed fraud."