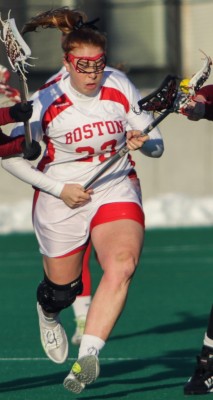 The Boston University women's lacrosse team is readying for the start of its season Friday with a home game against crosstown rivals No. 8 Boston College.
After ending last season with a tough loss in the Patriot League semifinal against Loyola University Maryland, the Terriers are ready to come back with a fresh outlook.
"This team has been waiting to get started since the end of last year," said BU head coach Liz Robertshaw. "They worked really hard throughout the summer and throughout the fall, and even when I saw them play last weekend at our scrimmage, they are just ready to play other people rather than hitting each other pretty hard in practice."
Coincidentally, BU's final game last year was against the Eagles, and the team finds itself in a familiar position at the start of this one. The Terriers hope, however, that the outcome will not resemble last year's match, as BC took a 17-9 win. Robersthaw emphasized the importance of concentrating on what her team can bring to the table.
"I think we really have to focus on ourselves," Robertshaw said. "BC is a great opponent, and we saw that last year. They're a top 10 team, but I think we have to focus on what we do and the style of lacrosse that we want to play — playing fast, playing aggressive, being really great defensively, slowing down opportunities for Boston College."
BC compiled a strong 2015 season, ultimately falling in the NCAA Tournament's second round to Loyola, the same team that knocked BU out of postseason contention.
The Eagles, however, will be without the efforts of Covie Stanwick and Mikaela Rix, two stalwarts who have graduated. The duo combined for 90 goals and 123 points a season ago.
That being said, their offensive power still holds with seniors Sarah Mannelly and Caroline Margolis. Both midfielders tallied at least 65 points last year, with Mannelly scoring 50 goals and Margolis scoring 37.
The offensive strength of the Eagles does not scare off the Terriers, according to Robertshaw, who is confident her team is up to the challenge.
"I think the biggest thing is we want to control the pace," Robertshaw said. "We want to make sure we are aggressive, but also controlled. We don't want to be giving up a lot of fouls. I think we have a really great game plan, and we just have to know that when that first whistle blows, we've just got to go play."
The season opener is especially important to BU's seniors, who Robertshaw said have been working extremely hard and have a renewed sense of purpose ahead of their final collegiate season.
"They've been waiting for their opportunity to be seniors since they were freshman," Robertshaw said. "We talked about their leadership skills and their field presence since they were all freshman, and they've really come into their own. I've been excited to watch them grow, and I know that they've been beyond excited to start the season."
At the end of the day, the Terriers understand the importance of starting the season out strong and putting their hard work to the test, especially against an opponent such as Boston College.
"The girls are really proud that they play for Boston University, and they want to showcase that against Boston College," Robertshaw said. "There's some hype from this past week with everything that happened, and the girls want to ride that momentum and have a great day."