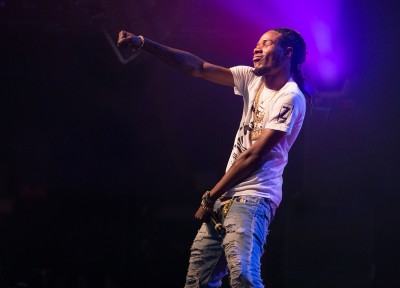 Fetty Wap's Monster Energy Outbreak Tour, "Welcome to the Zoo," is a little too aptly named.
The New Jersey rapper and his crew use "zoo" as an affectionate nickname for their group and, by extension, their fan base. Despite some transcendent moments, Monday night's show at the House of Blues often felt like a zoo in a bad way.
It seems that RGF Productions, the label Fetty Wap is signed to, has practically brought its entire label on tour. The show was more like a RGF tour with Fetty as the feature act rather than a Fetty tour with support from other RGF artists. A parade of mediocre artists kicked off the night, only performing about two songs each and poorly disguising the fact that they were lip syncing to backing tracks.

Post Malone, the main opening act, made up for the plethora of lackluster openers. The Dallas rapper exuded good vibes for his entire set, flashing infectious, grill-toothed smiles and dancing around the stage in buoyant bliss. He gave off the air of someone who might have never worried about a thing in his entire life.
While Post Malone pulled out a surprising number of decent songs, the high point was his fitting happy accident of a hit, "White Iverson."
The crowd loved every minute of Malone, bopping to the skittering beat and heavy but chill bass and singing along diligently when the instruments dropped away for the pre-hook.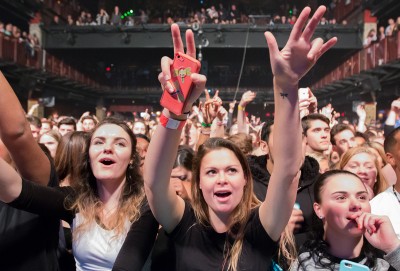 "When I started ballin' I was young / You gon' think about me when I'm gone," they sang together.
And then he was gone and it was time for Fetty.
"What are my four favorite numbers right now?" asked Nitt Da Gritt, head of RGF, who took the stage to introduce Fetty.
"1738," shouted the audience.
The numbers are another of Fetty's nicknames for his crew, a reference to 1738 Remy Martin cognac. They also are said at the beginning of nearly every song on Fetty's debut, eponymous album released last September, adding an unintentionally comedic effect.
Fetty emerged from backstage, calmly waving and nodding at the crowd, followed by a squad of about nine other people who mostly just sat on the stage for the duration of the set.
"Hey, Boston. Y'all ready to turn up with me?" Fetty asked before busting out mid-tempo opener "D.A.M," a somewhat forgettable and generic ode to his special someone.
After a brief burst of excitement, the crowd lost its energy. During the hook, Fetty held out his microphone for crowd members to sing it, but the response was weak. It didn't help that he barely moved around the stage.
But Fetty caught his stride on the next track, "RGF Island." He waved his hands like an orchestra conductor while the crowd sang his other trademark song openers, a distinctive "yeah, baby" and "whoa ooh ooh."
The song was a standout, showcasing Fetty's unique ability to merge hard-hitting rap with catchy melodies. Unfortunately, just as he was really finding his flow, the deejay cut off the song midway with trite explosion sounds. He would continue to stop songs short and excessively cut out words throughout the whole set, preventing the energy from ever fully building.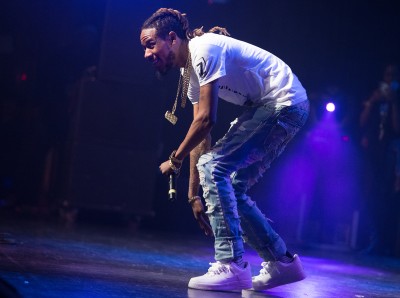 Fetty saved his biggest hit for last. The sharp synth hits of "Trap Queen" triggered huge cheers from the crowd. Once the beat dropped after the first few lines, the room and Fetty both exploded like a wind-up toy being let loose. He spun around the stage, dreads now free of their braids, flying as he jumped around. He grinned while the crowd sang every lyric in his ode to his partner-in-drug-crime girlfriend back to him.
However, Fetty wasn't happy with his performance.
"Sometimes, I can't let move how I wanna move," he said. "I feel like when I do this, when I come on stage, this my life. I like to give my all on this stage, so if y'all don't mind, I'd like to do that s— over 'cause I want to give it that Fetty Wap energy."
He took his shirt off and threw it into the crowd. This time, there were no opening synths. Fetty did the whole first verse a cappella, showcasing his powerful vocals with the crowd accompanying him every step of the way. And while he did bring the heat even harder, it felt a little bit like he was trying to pack a whole show's worth of missed power into the last three minutes.
Fetty ended the night with a bang, but was never able to build establish a cohesive atmosphere throughout the night. While the crowd exited the House of Blues, the deejay continued pumping out tunes. People were dancing and singing along to Big Sean's "I Don't F— With You," seemingly full of unspent energy.
Was the night was over, or had it just begun?