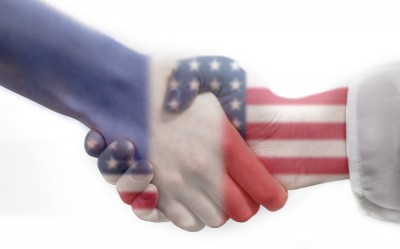 Boston Mayor Martin Walsh welcomed a visiting group of entrepreneurs, government and industry leaders to Boston for a weeklong training camp Tuesday to advance global innovations for technology startups, according to a Tuesday press release.
Walsh and Lyon, France Vice President Karine Dognin-Sauze signed a memorandum Wednesday to signify the "Big Booster" partnership between the shared opportunities of the two cities, a Wednesday press release stated. Entrepreneurs who have traveled to Boston will have the chance to participate in several "boot camp" activities.
Big Booster, which focuses on increasing entrepreneurship efforts in the areas of health, digital and environment and suitability, is advised by MassChallenge, "the most startup-friendly accelerator on the planet," according to the nonprofit organization's website.
Boston's partnership with Lyon marks an increase in global communication and innovation in the areas of health, environmental sustainability and innovative technology, as well as both cities' commitment to helping start-up companies, according to the Tuesday release.
Dognin-Sauze said the partnership with Big Booster would benefit both Lyon and Boston's economies.
"Innovation, economics, entrepreneurship are definite focuses that we want to have, just because it is a great chance to have, since the economic system over here is really part of the economic system in Boston," she said. "We would also like to open up new tracks of operation and collaboration, mainly in the industries of technology. This is an area where I think we can work well together."
Dognin-Sauze said Lyon and Boston share similar industrial values, which portrays Boston as an appealing global partner.
"I think we have the same mind set here as in Lyon. You cannot find that in New York [City] or in London," Dognin-Sauze said. "It's really shared values that we found here, and it's why we're going so fast."
Ian Mashiter, director of entrepreneurship activities in Boston University's Questrom School of Business, said entrepreneurs are successful because they have the newest technologies and business models, as opposed to older companies that tend to be more outdated.
"I think what it reflects is that more and more national governments, more and more local governments realize that innovation and economic growth come from new startups and new ventures," Mashiter said. "Clearly in this announcement here, you can see that the city really wants to stimulate that and help our local economy by putting government funding behind that asset."
Bari Bendell, a professor in Suffolk University's Sawyer Business School, wrote in an email that Lyon is becoming known for its research centers, bio-tech, clean-tech and digital technology not just in France, but throughout Europe.
"Research has shown that starts-ups and small businesses are more innovative than larger firms, producing 16 to 17 times more patents per an employee than larger organizations," Bendell wrote. "While any single small firm cannot compete head-to-head with larger ones on all facets, or even most, collectively, smaller firms challenge larger, established firms to become more efficient and responsive to customer needs."
Residents had varying reactions regarding the potential benefits the partnership between Boston and Big Booster would provide to the city's economy.
Sandra Lee, 39, of Charlestown, said the partnership is representative of the growing economy.
"[The economy] is probably growing at a faster rate than most cities, especially with GE and the pharmaceutical companies coming in," she said.
Mariama White-Hammond, 36, of Dorchester, said she believes that recent economic growth has not served the right populations.
"I grew up here, and I am glad to see that there has been a lot of economic growth," she said. "But I'm really concerned because I don't know [if the growth] has benefitted the people who have been here for years."
David Hurtado, 39, of Brighton, said he hopes the collaboration will give local industries more coverage.
"The more collaboration you have, the better, especially when they globally expand," he said. "Hopefully that would generate some sort of co-mingling between the industries, teachers and students. It should allow them to have more exposure, so it could be beneficial."