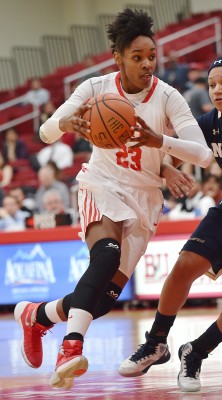 Coming off a tough loss at the hands of American University, the Boston University women's basketball team attempted to turn its fortunes around Saturday afternoon when it took on Loyola University Maryland.
While the Terriers (2-22, 2-11 Patriot League) played aggressively in the second half, it was already too late, as the Greyhounds' (10-14, 7-6 Patriot League) shooting troubled the Terriers in a 67-46 loss.
Early on, the Greyhounds dominated the Terriers with a fast-paced offense and uncompromising defense. Loyola was electric on transition play and on target with its shots. It seemed as though the Greyhounds could put it up from anywhere on the court and it would go in.
In the first quarter, they went 10-for-13, an astonishing 76.9 percent from the floor. The Greyhounds' speed was too much for the Terriers in much of the first half, and it didn't help that the Greyhounds' shots were borderline flawless.
Loyola's senior Colleen Marshall, who had 19 points against the Terriers her last time out, picked up right where she left off. She and guard Bri Betz-White combined for 17 points in the first frame. Comparatively, BU only sank 12 points in that same timeframe.
Head coach Katy Steding said the Terriers had plans for Marshall and Betz-White, but they weren't executed well.
"Marshall did a lot of their damage. She's a very good shooter," Steding said. " … So we tried to make it a priority for everyone to get out on her quickly because there were times where we knew we were going to have to switch. Betz-White is a good scorer off the bounce. We played her a little too tight, [and] our plan with her was to give her a step and force her to her left hand, which we didn't do very often. She was very quick. "
Contrastingly, BU's offense was ineffective in the first half, mainly because Loyola was pressing on defense. The Terriers found it difficult to get past the 3-point arc, and they only sunk 2-of-4 from range in the first two quarters.
Graduate student guard Troi Melton got BU's scoring rolling in the second quarter, but others struggled. She drained six points, and sophomore forward Kara Sheftic was the only other Terrier to score a single point.
Loyola continued its stellar shooting, making 50 percent of its second quarter shots, and took a 37-19 lead into the half.
Aside from Loyola's accuracy from the floor in the first half, the key to its 18-point lead was capitalizing on turnovers. Loyola scored 18 points off of Terrier miscues while BU recorded just three.
The Terriers played better in the second half, but Loyola's lead was insurmountable. With 25 points from Marshall, who sat out most of the fourth quarter, and 15 from Betz-White, BU couldn't bridge the gap.
Melton continued her success into the fourth quarter, though. She consistently found holes in Loyola's defense and drove hard to the rim. She ended up with 17 total points, but it just wasn't enough to surmount the deficit.
Despite the loss, Steding admitted that the fourth-quarter Melton was the one she wants to see more often as the season winds down.
"I've made the point with Troi that she is at her best when she's attacking the rim," Steding said. " … When she goes hard, there aren't many people who can stop her when she's got a lane. First of all, she's fast. Second of all, she's strong. Third of all, she can finish."